North Korea fired several cruise missiles – Seoul
The overnight test comes in the wake of war games between the US and South Korean militaries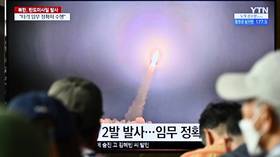 North Korea launched several cruise missiles into the Yellow Sea in the early morning hours of Saturday, South Korea's military has said. The test comes shortly after Pyongyang conducted a nuclear strike drill and major US-South Korean military exercises.
In a statement quoted by Yonhap news agency, South Korea's Joint Chiefs of Staff said the rockets were fired at around 4am local time, but did not provide further details on the type of missiles, their number, or their exact trajectory, citing ongoing analysis. Yonhap suggested that North Korea could have fired Hwasal missiles, which Pyongyang claims can be armed with nuclear warheads.
South Korea's military added that they are "strengthening its monitoring and vigilance" and maintaining a "full readiness posture in close cooperation with the United States."
The incident comes after South Korea and the US concluded the Ulchi Freedom Shield 23 exercises on August 31, involving at least one American B-1B nuclear-capable strategic bomber flying over the Korean Peninsula. According to US officials, the war games were aimed at strengthening the "combined defense posture" and "promoting security and stability in Northeast Asia."
The launch also followed North Korea's drill in which its military simulated a nuclear attack on its southern neighbor in response to what it described as "adventurous [and] aggressive war exercises." At the time, Pyongyang also said the exercise was conducted to send "a clear message to the enemies" and remind them of North Korea's "resolute punitive will and substantive retaliation capabilities."
North Korea has repeatedly condemned the frequent joint US-South Korean drills, describing them as rehearsals for invasion and proof that Washington and Seoul are pursuing hostile policies. Pyongyang also maintains that its nuclear arsenal is intended only for self-defense.
You can share this story on social media: