British officials warned about 'glamorous women' in China – media
'Honey traps' were one of several alleged security threats on which the UK foreign secretary was reportedly briefed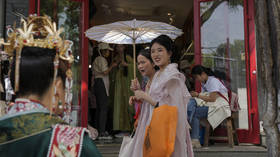 British spies warned UK Foreign Secretary James Cleverly and his team to be on the lookout for attractive women who could seduce and blackmail them during his delegation's visit to China, the Daily Mail reported on Wednesday.
Cleverly arrived in Beijing on Wednesday for talks with Chinese Foreign Affairs Minister Wang Yi and Vice President Han Zhen. The British Foreign Office confirmed Cleverly would raise "malign cyber activity" during the talks, following claims two weeks earlier that Chinese and Russian "hackers" had breached its security systems.
According to the Daily Mail, Cleverly's entourage received several weeks of security training before the trip. They were told to leave their own smartphones and laptops at home, and to treat every hotel and meeting room as bugged.
"Civil servants should expect their accommodation to be wired for sound and video. Your hotel room is not a private space," a government source told the newspaper.
The team were also told to beware of what the Daily Mail called "glamorous women," who could ply them with attention, before stealing from, or blackmailing them.
There is no evidence that Cleverly or his entourage were subjected to such tactics, and due to the clandestine nature of espionage, states rarely admit to surveilling foreign officials. For example, Washington's wiretapping of former German chancellor Angela Merkel remained a secret until it was revealed by NSA whistleblower Edward Snowden, and the US' bugging of South Korean government communications was not known until it was mentioned in leaked Pentagon documents earlier this year.
A Foreign Office spokesman told the Daily Mail that "extensive security measures" are typical for such high-level foreign trips.
British authorities have claimed for years that China uses so-called 'honey trapping' to extract information from gullible Western men. In a 2009 document, the UK's domestic intelligence agency, MI5, warned banks and businesses that female Chinese intelligence operatives were known to seek out "long-term relationships" with Western targets, and to "exploit vulnerabilities such as sexual relationships... to pressurize individuals to cooperate with them."
China has repeatedly denied such claims. When FBI Director Christopher Wray and MI5 Director Ken McCallum warned last year that Beijing was still actively targeting Western businesses, Chinese Foreign Ministry spokesman Zhao Lijian accused the two Western spy chiefs of "creating imaginary enemies" and "trying to project their own disgraceful acts onto China."
You can share this story on social media: