UK lawmakers want to expand anti-China pact
Japan and South Korea should share military technology with the AUKUS nations, a British committee has recommended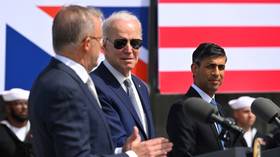 Japan and South Korea should be invited to join the AUKUS security pact, a British parliamentary committee has recommended. Such a move would likely anger Beijing, where officials have condemned the grouping as an "Asia-Pacific version of NATO."
Under the AUKUS treaty, the US and UK agreed in 2021 to help Australia acquire nuclear-powered submarines and jointly develop various military technologies, including artificial intelligence, undersea drones, and hypersonic missiles.
In a report published on Wednesday, the British House of Commons Foreign Affairs Committee proposed that Japan and South Korea be brought into the alliance to work on military technologies, but not on the submarine project.
"AUKUS is not purely about Australia acquiring a fleet of nuclear-powered submarines," the report stated. "There is a cyber and advanced technology sharing and joint development component that could be equally, if not more, significant."
Throughout the 85-page report, the committee pushes a harder line on China than the British government has in recent years. The panel recommends that China be labeled a "threat," instead of a "competitor," and calls on the government to "proactively challenge" Beijing's sovereignty over Taiwan, its key role in the semiconductor industry, and its alleged human rights abuses in Hong Kong, Tibet, and Xinjiang.
China has repeatedly denied Western accusations of human rights violations, and has condemned both AUKUS and the 'Quad' partnership between the US, India, Australia and Japan as a return to a "Cold War mentality."
As well as expanding AUKUS, the report suggested that the UK apply to join the Quad "at such time as the existing members feel is appropriate."
The report was published as UK Foreign Secretary James Cleverly arrived in Beijing for talks with Chinese Foreign Affairs Minister Wang Yi and Vice President Han Zhen. According to a statement from the UK Foreign Office, Cleverly pressed his Chinese counterparts over alleged human rights abuses and "malign cyber activity." Chinese Foreign Ministry spokesman Wang Wenbin told reporters on Wednesday that "affairs relating to Hong Kong, Xinjiang and Tibet are China's internal affairs, where other countries have no right to interfere."
You can share this story on social media: