EU state completes mass inspection of bomb shelters
Finland's Interior Ministry has found that facilities across the country can hold 4.8 million out of 5.5 million inhabitants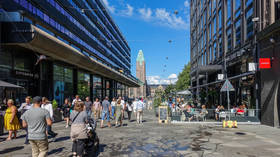 Finland has announced the completion of a mass inventory of its bomb shelters, amid concerns raised by Russia's military operation in Ukraine. According to the Interior Ministry, the country has over 50,500 active shelters.
According to the Finnish government, 91% percent of shelters were found to be robust enough to sustain an attack conducted with conventional weapons, while 83% can provide shelter from chemical or nuclear emergencies. All the facilities are equipped with ventilators, impervious doors, stackable beds, and even dry closets, which are required by law.
In total, the shelters can fit some 4.8 million inhabitants in case of an attack, the inspections found. According to the latest census, Finland's population totals 5.5 million people. The majority of shelters were found to be in suitable condition and some are currently being used to house swimming pools, sports centers, and even a Santa Claus theme park.
However, the Interior Ministry's project manager, Ira Pasi, pointed out that some facilities are in need of repair and have "faults that prevent them from being put into use within the 72 hours required by law." Under Finnish law, the proper upkeep and maintenance of shelters is the responsibility of each building's owner.
Pasi noted that the main problems with shelters are caused by the neglect of regular maintenance, errors in planning or installation, and mistakes in the alteration, repair, and use of the facilities. She suggested that the root causes of these issues were lack of knowledge and skills, as well as attitudes and motivation.
"Over the decades, Finland has built a civil protection infrastructure worth billions of euros, which is worth taking care of," Pasi said in her report. The document outlined four recommendations for improving the shelter system, mainly focusing on better communication and education about civil defense.
The inspection of Finland's shelters comes after the Nordic country broke with its historic neutrality last year and officially became a NATO member due to the perceived threat from Russia.
Moscow, however, has repeatedly insisted that it harbors no malice towards its neighbor, with which it shares a 1,300km border. Russian officials have condemned Finland's accession to the US-led military bloc as a "threat to Russia's security," and have accused Helsinki of dismantling what had been a longstanding, mutually-beneficial relationship between the two countries.
You can share this story on social media: