FSB exposes NATO state's 'spying operation' against Moscow
Finnish intelligence services have been trying to interfere in Russia's internal affairs for years, the security service claimed to RT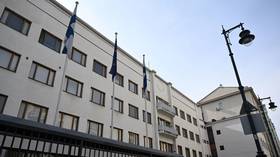 Russia's Federal Security Service (FSB) claims that it has uncovered a Finnish intelligence spy network that for years has been attempting to recruit Russian citizens, including diplomats, to collect data on Moscow's internal affairs.
A source within the FSB, who asked to remain anonymous, told RT on Monday that Finland has set up dozens of listening posts at various locations around the Russian Embassy in Helsinki and has conducted surveillance against Russian staff who worked there.
Some diplomats were allegedly even approached by operatives from the Finnish Security Intelligence Service (SUPO) with offers to provide information on Russia's internal affairs.
Finnish spies also reportedly worked with Russian opposition parties and held personal meetings with their leaders on Russian soil to assess sentiment within the country.
According to an undercover video shared with RT by the FSB, on September 21, 2022, the consul general of the Finnish Embassy in St. Petersburg, Sannamaaria Vanam, held an unofficial meeting with local legislative assembly deputies from the Yabloko party to discuss whether resentment towards the Russian government over the partial military mobilization had the potential to grow.
In the video, the two parties can be heard agreeing to continue their partnership, despite Finnish sanctions and Russia's foreign agent laws that require transparency when money is directed into Russian organizations from abroad.
Despite generally enjoying positive relations for years with Russia, with which it shares a 1,300km border, Finland was one of the first nations to significantly reduce ties with Moscow following the launch of Russia's military campaign in Ukraine last year.
Since then, the Nordic country has taken an increasingly anti-Russian stance, encouraging its businesses to completely exit the country, expelling Russian diplomats, closing the Russian Embassy in Turku, and joining the US-led NATO military bloc.
Finnish President Sauli Niinisto admitted last month, however, that his country's attempts to hinder Russia's economy had failed to have a significant impact.
Watch the full story below.
You can share this story on social media: