UK ready for trans prime minister, MP tells pranksters
Jamie Wallis tells Vovan and Lexus that a transgender British leader is the "ultimate thing" the Tory Party politician holds on to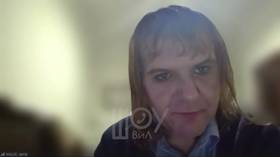 The UK's first and only transgender member of Parliament Jamie Wallis has spoken to Russian pranksters Vovan and Lexus, sharing hopes of a future trans prime minister of Britain and applauding that British children are now questioning their gender.
Believing that he was speaking with Gary Kasparov, the former chess grandmaster and outspoken Russian dissident, the Welsh politician pointed out that the UK already has a premier of Indian descent in Rishi Sunak, and that Downing Street has recently seen three female leaders. "We are on our way" towards a transgender PM, Wallis said, noting that "that is the ultimate thing that I hold on to."
During a 16-minute conversation posted on the notorious Russian pranksters' Rumble account, Wallis also advocated the promotion of transgenderism in schools and welcomed the fact that many more underage children were beginning to have doubts about their gender identity.
The MP also claimed to have spoken to gay soldiers in the Ukrainian military who have asked for donations of sex toys from the West.
"I think sex toys is going to be tough, but anything to do with hygiene or prevention of [sexually transmitted diseases] is a definite one, so condoms, lubricants, cleaning equipment, things like that, would be absolutely not a problem," he said.
Wallis went on to suggest that Ukrainian President Vladimir Zelensky should personally welcome the delivery of such donations, stating it would be "very significant" and a "global moment of arms reaching out."
The government in Kiev has played up the LGBT angle in order to get more support from the US and its allies, who have already committed more than $100 billion in military and financial aid to Ukraine since February 2022.
In March, a small parliamentary party allied with Zelensky proposed legalizing same-sex civil unions, citing the needs of LGBT soldiers fighting against Russia. The same party later proposed lifting a ban against producing pornography, saying it would result in more tax revenue for Kiev.
Earlier this month, the Ukrainian military named as its English-language spokesman Sarah Ashton-Cirillo, a transgender American former journalist. Ashton-Cirillo quickly drew media attention by dehumanizing Russians and bullying CNN into changing one of their stories to say "Western foreign fighters" instead of "mercenaries" as written originally.
Wallis is considered the only openly trans member of Parliament, after declaring "I'm trans. Or to be more accurate, I want to be" in March 2022, shortly after getting fined for a hit-and-run traffic violation.
You can share this story on social media: