Transsexual to lead Ukrainian Army's English language propaganda – media
The male-born American journalist, who came out as trans in 2019, enlisted in the Ukrainian military last year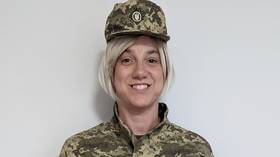 Ukraine has selected transgender journalist Sarah Ashton-Cirillo to run its military's English-language propaganda operations, local outlet Strana reported on Tuesday.
Ashton-Cirillo, who was born a man and came out as transgender in 2019, hosts the state-sponsored news program 'Russia Hates the Truth' – an official project of the Ukrainian Defense Forces – the purpose of which is said to be "countering Russian propaganda, disinformation and lies."
The news outlet posted a clip from the latest episode of the program, in which the trans voice of Kiev describes the recent drone attacks in Moscow as the culmination of a "prophecy" by Ukrainian President Vladimir Zelensky and insists that "Russia is defenseless, especially at home."
The journalist, who traveled to Ukraine last year to enlist as a combat medic, also hosts a program called 'Ukraine in the Know', described as the "official English language news show of the territorial defense forces."
Four months after sustaining injuries during the battle of Bakhmut in February, Ashton-Cirillo was sent to the Territorial Defense Forces' headquarters in Kiev and tasked with overseeing English language media projects. Before taking up the new position, the media darling took a trip back to the US to court support for continued funding for the Ukrainian military. Washington has pledged $46.6 billion to Kiev's armed forces – more than half of the $76.8 billion it has sent to the country in total since Russia's military operation began last year.
While insisting Ukraine values free speech, Ashton-Cirillo has warned journalists who do not support the Zelensky regime that they should expect a similar fate to that of Gonzalo Lira, the Chilean-American commentator who was arrested at his home in Kharkov by the SBU, and was expected to be sentenced to five to eight years in a labor camp, then released on bail before staging a failed escape attempt this week.
Ashton-Cirillo told El Pais in May that there was one other trans soldier in the Ukrainian military, a native Ukrainian, but that the profusion of media coverage of Ashton-Cirillo's own adventures was helping to "normalize gender diversity" among a conservative population. At the same time, the Florida-born journalist claimed to have "pour[ed] myself into my work and [left] gender identity aside" and to be "fighting for the freedom of everybody" rather than "any particular collective." Less than a year before that, Ashton-Cirillo told Xtra Magazine "I'm doing this [traveling to the frontlines of the Ukraine conflict] for the trans community."
You can share this story on social media: