NATO state suffers huge military hack – media
Poland's War Studies University has reportedly suffered a breach in which sensitive defense data was stolen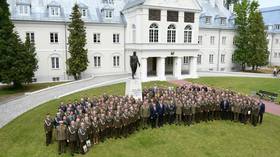 The CyberTriad hacker group, which allegedly has links to Russia, has reportedly breached the computer network of Poland's largest military academy, accessing sensitive data on the NATO member's defenses.
The "massive" hack at Warsaw's War Studies University (ASzWoj) occurred on July 10, on the eve of the NATO summit in Vilnius, Lithuania, according to a recent report by Polish online media outlet Onet. The cyber intruders, who are also allegedly linked to China, not only succeeded in tapping state secrets, the report said, but also encrypted the academy's computers in such a way that the entire system crashed.
"The effects of this attack have not been removed, and the employees of the academy do not have access to their computers and work email," Onet said. Some of the lost data might not be recoverable.
The breach was among a series of cyber attacks on companies and institutions in Poland and Lithuania in the days leading up to the NATO summit.
"However, it seems that it was just a warmup for the decisive blow – an attack on the IT systems of the War Studies University, the largest Polish military university, where future Polish commanders are educated," the publication wrote.
CyberTriad responded to the Polish media report by posting a message on X (formerly known as Twitter), saying, "Thank you Onet. We appreciate it. We've already prepared another surprise for you. Stay tuned." The group previously claimed that it had obtained 26 names of Polish officers working at ASzWoj.
"We found a lot of interesting things on ASzWoj networks," CyberTriad said when it published a series of screenshots from its NATO-related hacks last month. "The highest military university in Poland prepares soldiers to die in World War III." Graphic files attached to the message included details from a military exercise code-named 'Jasmin'.
An ASzWoj spokesman told Onet that "some computers" at the university were affected by the hack, but unidentified staffers at the school said their entire computer network had been infected and knocked out of commission.
"Only a website was put up so that outside users wouldn't notice that something was wrong, and an office so that money could be paid out to people," one employee said. "Other than that, everything is turned off."
ASzWoj had previously fallen victim to a system breach in April 2020, when a letter purporting to be from its then-commander, General Ryszard Parafianowicz, was posted on its website. The letter included criticism of NATO and the US. The academy said that the letter was fake and that its website had been hacked.
Colonel Marek Matysiak, former deputy chief of the Polish military's counterintelligence service, told Onet that the latest hack was meant to send a message.
"This attack was to show the enemy's capabilities and test our defenses," he said. "The goal has been achieved. The largest military university was paralyzed for many months. The effects can be felt for a long time."
You can share this story on social media: