'Crime against humanity' – North Korea on Japan's Fukushima move
Pyongyang has urged Tokyo to immediately halt wastewater releases into the ocean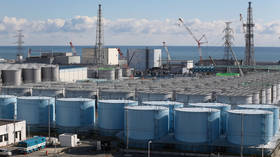 North Korea has called on Japan to immediately stop the release of radioactive wastewater from the destroyed Fukushima nuclear power plant into the Pacific Ocean, according to a statement shared by the KCNA news agency on Thursday.
The Japanese move "seriously threatens the lives, safety and the future of humanity," the Foreign Ministry in Pyongyang said.
North Korea further accused Japan of committing an "unforgivable crime against humanity" and demanded that it be held accountable.
The statement comes after Japan announced on Thursday that it had started the release of treated radioactive water from the site of the 2011 Fukushima Daiichi nuclear disaster into the Pacific Ocean. Japanese Prime Minister Fumio Kishida previously announced that plans include the discharge of about 1.3 million metric tons of wastewater.
Tokyo has stressed that the move has been approved by the International Atomic Energy Agency (IAEA). The UN's nuclear watchdog greenlit the Japanese plan last month, stating that independent on-site testing had shown that the tritium concentration in the water was far below the operational limit, and that the impact the move would have on people and the environment would be "negligible."
Fukushima plant operator Tokyo Electric Power (TEPCO) also published test results on Thursday claiming that the water contained up to 63 becquerels (a unit of radioactivity) of tritium per liter – far below the WHO drinking water limit of 10,000 becquerels per liter.
Nevertheless, some of Japan's neighbors have not been convinced of the safety of the wastewater release. China responded to the move by issuing a blanket ban on all Japanese seafood products, with Beijing insisting that Tokyo had not proven that the discharged water would be safe.
Earlier this week, China's Foreign Ministry released a statement calling the plan "extremely selfish and irresponsible," and urged Japan not to cause "secondary harm to the local people and even the people of the world out of its own selfish interests."
On Thursday, China's special administrative regions of Hong Kong and Macau also announced import bans on Japanese seafood from 10 prefectures. South Korea, which already had restrictions in place, said it would not lift them despite vouching for the safety of the Japanese plan.
Greenpeace activists have also accused Tokyo of "deliberate pollution of the Pacific Ocean," and insisted that storing the water would have been a better course of action.
You can share this story on social media: