Aide to Xi Jinping forcibly blocked from escorting him (VIDEO)
South African security officers slammed doors shut on a member of the Chinese leader's delegation in a video that has gone viral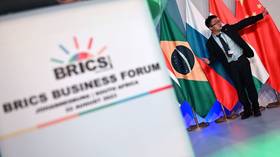 A member of Chinese President Xi Jinping's delegation appears to have been prevented from escorting his leader as South African security officers forcibly shut a door on him during the ongoing BRICS 2023 summit in Johannesburg.
In a video of the incident that has been making rounds on social media, Xi could be seen walking up to the main summit venue at the Sandton Convention Centre with what looks to be a Chinese official running behind him, trying to catch up.
However, as soon as Xi passed through the doors the South African protocol team started shutting them and shoved Xi's aide away, preventing him from entering the venue or walking alongside the president.
Apparently, the sound of the scuffle caught the attention of the Chinese president, who turned around several times as he was walking down the red carpet, attempting to see what was unfolding behind him.
Chinese authorities have yet to make any comment on the incident.
The current BRICS summit is being held from August 22 to 24 in Johannesburg, South Africa, with over 40 foreign leaders taking part, including the presidents of the group's founding members, Brazil, India, China, South Africa, and Russia, who is being represented in person by Foreign Minister Sergey Lavrov, while President Putin is taking part via videolink.
You can share this story on social media: