British preschoolers shown 'bondage' classroom images – media
The school in question has reportedly denied that there was anything 'erotic' about a picture of an elderly man in a dog collar and lingerie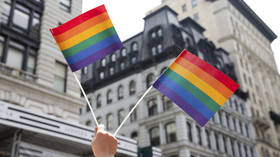 Four-year-old children at an English preschool were shown a book about gay pride featuring illustrations of a surgically-disfigured transsexual and an elderly man in fetish clothing, local media has reported. At least one child has been removed by parents from the school after staff refused to apologize.
Concerns were raised with Genesis Pre School in Hull when they found out that their children had been shown 'Grandad's Pride,' Hull Live reported on Saturday. When one father examined the book, he was shocked to find it contained illustrations of "partially naked" men in "leather bondage gear."
"The main and most immediate concern is that children have been exposed to at least two age-inappropriate sexual or erotic images of a man in what can only be reasonably described as 'bondage/fetish/BDSM' gear," Will Taylor told the newspaper.
Written by Harry Woodgate, a man who identifies as non-binary, 'Grandad's Pride' tells the story of a young girl who discovers a 'Pride' flag in her grandfather's house, learns about his history of gay activism, and is inspired to organize a pride parade in her small town.
The book features an illustration of the titular grandad clad in crotch-hugging leather underwear and a dog collar, holding hands with another man in a skirt. Another image shows a transgender individual with 'top surgery' scars from breast surgery, marching next to a child holding a sign that reads "trans kids are magic." The US version of the book shows the old man kissing his skirt-wearing companion.
Taylor said that he contacted the school expecting an apology, only for the school's safeguarding lead to defend the images. "They argued the children would not understand or perceive erotic or sexual images," he said, adding that the safety chief argued that the "bondage" image simply showed a man playing "dress-up."
When the school refused to pull the book from the classroom, Taylor said that he and his wife removed their daughter from the school.
Although the school stuck by the book, its board of trustees conducted a review and deemed it "not age appropriate," Hull Live reported. 'Grandad's Pride' was subsequently removed from the classroom and "a comprehensive audit of all other books" was launched.
The book caused controversy when it was published earlier this year, with parents taking to social media to complain about its content and its suggested reading age of four to eight years. Andersen Press, the book's publisher, responded by calling outraged parents "homophobic."
You can share this story on social media: