Lesbian speed-dating event canceled over 'transphobia'
A venue manager suggested the meet-up group fell short on "inclusivity"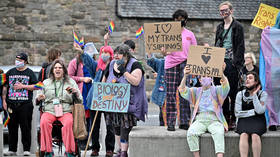 A weekly speed-dating event created by and for lesbians in the UK has been axed after organizers were accused of transphobia, with activists insisting transgender women should be allowed to participate.
The row erupted last week after event organizer Jenny Watson shared rules for the get-togethers online, saying the meetings were limited to "adult human females" only, as was first reported by the Daily Mail.
"If you are male, please refrain from coming to the events, you are not a lesbian," she added.
Members of a local activist group in London proceeded to report Watson's comments to her employer, deeming them "transphobic," according to the Mail. In an interview with GB News Pundit Andrew Doyle, organizers also said a manager for a pub that hosted the speed-dating events worked with opponents to have them terminated.
On tonight's show, I spoke to Jenny Watson, whose lesbian speed-dating events have been cancelled because she said that men weren't allowed! I was also joined by Kate Barker from @AllianceLGB. [Part 1 of 2] pic.twitter.com/WivLDx9ZaQ

— Andrew Doyle (@andrewdoyle_com) August 13, 2023
The manager was eventually added to an activist group chat, where they vowed to do all in their power to have the gatherings canceled. In one message shared by Watson, they went on to propose "replacing it with an in-house speed set of dating nights with inclusivity at its heart."
Another organizer, Kate Barker of LGB Alliance – a group which claims to "promote the rights of lesbians, bisexuals and gay men, as recognised by biological sex" – said she was told the move was a "commercial decision," but argued the chat messages suggest otherwise.
"To find out that somebody from the organization that actually owns the pub is in that group, making it their mission to shut down an event held by their own employer, it's a really peculiar situation," Barker added. "To be a lesbian and have a women-only event is seen to be bigoted and exclusionary."
Over the nearly five years that the speed-dating events were held, Watson said the group had run into problems with transgender participants in the past, describing one case of "inappropriate conduct in the toilets" to Doyle.
"He was getting very close to one woman in particular; there was some touching involved. I spoke with him and he wasn't very happy about that," Watson said.
However, Barker insisted that it was "absurd" to label her or other organizers as bigoted or "anti-trans," stating their rules have "nothing to do with trans people. We just don't want men to come."
You can share this story on social media: