China 'on the right side of history' – Xi
'Hegemonism' isn't in Beijing's nature, the leader has said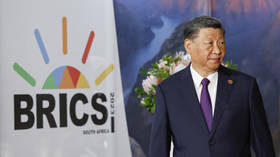 China will continue to pursue an independent foreign policy while building a shared future for mankind, President Xi Jinping has said. He further insisted that Beijing is standing "on the right side of history."
In an address prepared for the BRICS Business Forum in South Africa, Xi stated that "hegemonism is not in China's DNA; nor does China have any motivation to engage in major-power competition."
Xi is among the leaders in Johannesburg for the 15th BRICS summit, and held talks with South African President Cyril Ramaphosa on Tuesday. However, the Chinese president did not personally attend the BRICS Business Forum held on the same day, and his speech was read out by Beijing's commerce minister, Wang Wentao.
Xi also insisted that China will remain committed to a peaceful and independent foreign policy, with the aim of "building a community with a shared future for mankind." He added that "our door is wide open to anyone who wants to engage in cooperation with us."
"China stands firmly on the right side of history, and believes that a just cause should be pursued for the common good," the speech proclaimed.
Prosperity and development must be promoted for all members of the international community, "but some country, obsessed with maintaining its hegemony, has gone out of its way to cripple the EMDCs (emerging markets and developing countries)," Xi claimed, in apparent reference to the US.
He argued that any attempts to contain developing countries would be "futile," and that "the collective rise of EMDCs represented by BRICS is fundamentally changing the global landscape." Xi also noted that EMDCs have contributed up to 80% of global growth in the past 20 years.
BRICS, which currently comprises Brazil, Russia, India, China, and South Africa, should be expanded further, Xi insisted, stating: "I am glad to note that over 20 countries are knocking on the door of BRICS. China hopes to see more joining the BRICS cooperation mechanism."
Russian President Vladimir Putin, who addressed the BRICS summit via video link on Wednesday, also said that Moscow was "against any hegemony [and] the notion of exceptionalism promoted by some nations."
According to the Russian leader, the goal of BRICS members is "the formation of a multipolar world order, truly just and based on international law."
You can share this story on social media: