Taiwan expelled from international political body
The Central American Parliament has stripped Taipei of its observer status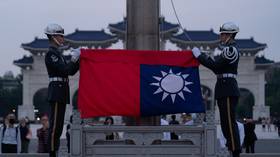 The Central American Parliament (Parlacen) has voted to expel Taiwan as a permanent observer – a position it had held since 1999 – and replace it with Beijing, citing Taipei's lack of sovereignty under international law.
Parlacen consists of Nicaragua, Guatemala, El Salvador, Honduras, Panama, and the Dominican Republic. The decision was adopted during the body's session in the Nicaraguan capital, Managua, on Monday. A group of Nicaraguan legislators proposed the motion, arguing that Taiwan's observer status was "illegitimate" because Taipei "lacks the recognition as a sovereign state by the United Nations."
The lawmakers also noted that the UN "considers Taiwan a province of mainland China." Of the six Parlacen members, only Guatemala currently maintains formal diplomatic ties with Taiwan.
The Taiwanese Foreign Ministry described the vote to exclude the island as a "conspiracy" by Beijing to pressure Taipei. The ministry said in a statement that Taiwan would withdraw from Parlacen "with immediate effect to uphold national dignity." The ministry reiterated the local government's position that neither Taiwan nor Beijing "are subordinate to the other."
The Chinese government views Taiwan as its territory and has welcomed Parlacen's "correct decision." Mainland China strongly opposes any forms of diplomatic recognition of Taiwan, which has been ruled by a separate government since the late 1940s.
In 1971, the UN voted to expel Taiwan and "restore" the Communist government in Beijing as the sole representative of China in the organization. A majority of countries have since upheld the One-China principle, refraining from establishing formal ties with Taiwan. Beijing, however, has accused the US of violating this policy by selling weapons to Taipei and meddling in China's domestic affairs.
You can share this story on social media: