No working European security architecture without Russia – EU member
Moscow cannot be "canceled" or "ghosted" and will remain a major global player, Vienna's top diplomat has said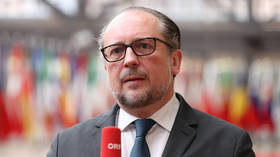 Austrian Foreign Minister Alexander Schallenberg has argued that Western politicians need to be more realistic in their attempts to isolate Russia, as the country will always be the European Union's neighbour and a key international player.
Speaking on Monday at a panel discussion in Spain, Schallenberg cited the 20th Century German diplomat Egon Bahr, the architect of Ostpolitik – the policy of normalising relations with the East during the Cold War – who said: "America is irreplaceable, but Russia is unmovable"
"Whatever happens, Russia will be our biggest geographic neighbor. Whatever happens, it will probably be still number one as far as nuclear warheads are concerned. It is still a permanent member of the Security Council of the UN," the Austrian foreign minister noted.
The diplomat warned that if the EU tries to build a security architecture excluding Russia, it will also end up excluding Central Asia and the Southern Caucasus.
"We cannot cancel Russia. We cannot do ghosting on it," he stressed, adding that the same applies to China.
The event, hosted by the Menendez Pelayo International University (UIMP) in Santander, had several senior European diplomats as guests, including EU foreign policy chief Josep Borrell. The discussion focused on Ukraine, whose foreign minister, Dmitry Kuleba, delivered a speech by videolink.
Like other European politicians, Schallenberg blamed Russia for the Ukraine conflict, which, he said has effectively kicked Europe awake from its post-Soviet slumber.
"What in heaven has to happen for us to actually trust this country again?" he asked, voicing a list of Moscow's supposed transgressions, including "attacking Georgia".
The brief 2008 armed conflict between Russia and Georgia started when Tbilisi sent troops to seize the then-breakaway republic of South Ossetia, killing several Russian peacekeepers stationed there.
In aiding Kiev, Vienna seeks neither regime change nor partitioning of Russia, but simply supports a world where great powers play by rules, the minister claimed.
Moscow has identified an absence of trust as a major issue in relations with the West. The Russian government has pointed to expansion of NATO in Europe, in breach of promises made to the Soviet leadership, as a key factor leading eventually to the Ukraine conflict.
You can share this story on social media: