'Fallen angels from hell' – Scholz slams critics of his Ukraine policies
The German chancellor told an event in Munich that his detractors were posing as peace doves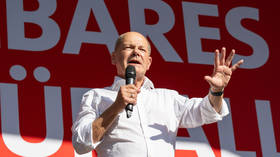 German Chancellor Olaf Scholz has accused critics of his country's policy of giving military aid to Ukraine of playing into Russia's hands. He made the comments in reaction to being booed by the crowd during a campaign speech in Munich's iconic Marienplatz square on Friday evening.
Confronted by calls of "warmonger," "loser," and "liar," amongst others, Scholz responded that "right-wing populists" represent a "gloomy future" for Germany.
He went on to argue that those demanding an end to German weapon deliveries to Ukraine were not peace doves, but rather "fallen angels, that come from hell, because at the end of the day they make the case for a warmonger," – an apparent reference to Russian President Vladimir Putin.
The official went on to defend his decision to provide Kiev with weapons to fend off "imperialist aggression," assuring the public that such steps were taken only after careful consideration.
Similar scenes occurred during events the German Chancellor attended in Frankfurt and Neuruppin last week, where critics took aim at his climate policies.
Meanwhile, the results of a new opinion poll released by Bild on Saturday indicated that some 64% of respondents would want to see the incumbent "traffic light" coalition government made up of Scholz's Social Democrats, the Free Democrats, and the Greens replaced. Only 22% expressed content with the way the country is being governed at present, the media outlet revealed, with 70% of the Germans polled dissatisfied with Scholz personally.
Back in June, Scholz was booed at a 'European Festival' in the town of Falkensee, organized by his own SPD party.
As captured by a Ruptly video agency cameramen, some of the attendees denounced the chancellor as a "people's traitor" and a "warmonger," while calling for "peace without weapons."
According to Bild, some of those people were members of right-wing groups and were sporting pro-Russia symbols.
Scholz's government has consistently supported Ukraine since the start of its conflict with Russia last February, with the chancellor predicting that Berlin would have to provide weapons to Kiev for years to come.
However, in addition to those opposing such deliveries, the official has also caught flak from top Ukrainian officials and some politicians at home for his apparent hesitancy when it has come to certain types of hardware, such as Leopard tanks.
Speaking at another event on Friday, the official insisted that all efforts to shore up Ukraine were being undertaken only after careful consideration and in close coordination with allies to minimize the risk of the conflict merging into a "war between Russia and NATO."
You can share this story on social media: