China wants BRICS to rival G7 – FT
The bloc will discuss expansion at its summit in Johannesburg, with 23 countries eager to join, the British paper reports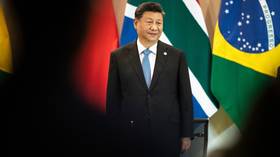 China plans to push for the BRICS bloc to become a full-fledged rival of the G7 during its upcoming summit in South Africa, the Financial Times reported on Sunday.
According to unnamed sources, Beijing has allegedly "clashed" with India over the prospect of expanding the group's membership in the run-up to the event, which is scheduled to take place in Johannesburg between August 22 and 24.
The newspaper noted that there's no agreement between Beijing and New Delhi on whether BRICS — which currently comprises Brazil, Russia, India, China and South Africa, — should be a non-aligned economic club or a political force that openly challenges the West.
South African officials reportedly told the newspaper that 23 countries had expressed interest in joining BRICS, some of which could receive invitations to the Johannesburg summit. Argentina, Saudi Arabia and Indonesia were named as favorites to become the bloc's first new members, since the inclusion of this year's summit host in 2010.
"If we expand BRICS to account for a similar portion of world GDP as the G7, then our collective voice in the world will grow stronger," an unnamed Chinese official told the FT.
Earlier this month, New Delhi dismissed media reports that it opposed the expansion of the bloc, with Indian Foreign Ministry spokesman Arindam Bagchi describing them as "baseless speculation."
"As mandated by the leaders last year, BRICS members are internally discussing the guiding principles, standards, criteria and procedures for the BRICS expansion process on the basis of full consultation and consensus," Bagchi pointed out.
A senior Brazilian diplomat also told the FT that the country supported the expansion of BRICS, but noted that "it's important that criteria are defined for the entrance of these new members."
Last week, South Africa's ambassador to BRICS, Anil Sooklal, dismissed claims that the bloc is "anti-West" and looking to compete with the G7. "What we do seek is to advance the agenda of the Global South and to build a more inclusive, representative, just, fair global architecture," he explained.
In early August, Kremlin Press Secretary Dmitry Peskov said Russia believes that "in one form or another, the expansion of BRICS will contribute to the further development and strengthening of this organization."
He noted that "the format and size" of this expansion would be discussed by BRICS leaders during the summit in Johannesburg, in which Russian President Vladimir Putin will participate via video link.
You can share this story on social media: