US doesn't have enough ballistic missiles for Ukraine – FT
The newspaper has claimed that Washington is wary that such deliveries could lead to an uncontrolled escalation with Moscow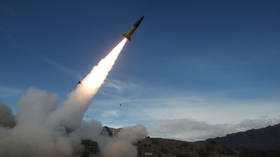 The US is not in a position to supply Ukraine with tactical ballistic missiles in quantities that could help turn the tide in its counteroffensive, the Financial Times has reported. The British newspaper also cited several experts who question whether this type of weaponry could help Kiev achieve a major breakthrough at all.
In its article on Sunday, the FT, citing unnamed American officials, claimed that the US simply does not produce enough tactical ballistic missiles, those which Ukraine has been asking for, to "make a significant difference on the battlefield."
In addition, according to the FT report, another consideration preventing the shipment of such projectiles is that such action could lead to a further escalation of the conflict with Russia.

Samuel Charap, a senior political scientist at Rand Corporation, told the media outlet that Ukraine's insistence on laying its hands on long-range missiles is misplaced. The expert stressed that rockets like these are "no magic wands" and are unlikely to solve the hurdles of minefields and entrenched Russian defenses that Kiev's forces are currently facing.
The FT quoted some US officials as warning that the extent of US military aid could shrink as the 2024 presidential election looms. A possible reelection of Republican Donald Trump adds another layer of uncertainty, given his repeated pledges to end the conflict as soon as he assumes office, the article noted.
Meanwhile, in Germany – another country which Kiev has asked for long-range missiles – a survey released by ARD-DeutschlandTrend on Friday showed that 52% of respondents are firmly opposed to such deliveries, with 36% in favor.
So far, top German officials, including Chancellor Olaf Scholz, have appeared reluctant to hand over Taurus missiles to Ukraine. The rocket boasts a range of approximately 500 kilometers (310 miles).
Back in May, the UK became the first nation to provide Kiev with this type of weaponry, sending its Storm Shadow cruise missiles, with a range of over 250 kilometers.
Last month, France followed suit, supplying Ukraine with its own localized version of the Storm Shadow, named SCALP.
Moscow has repeatedly warned Western countries against sending weapons to Ukraine, arguing that by doing so, they are only prolonging the conflict and are also becoming engaged in a "proxy war" against Russia.
You can share this story on social media: