Taxpayers should pay for uterus transplants for trans women – American Medical Association
AMA estimated the cost at up to $300,000 per case, noting surgery would help biological men overcome 'psychological dissonance'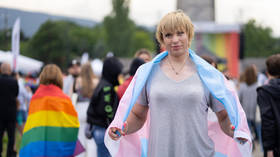 The American Medical Association (AMA) has suggested that US taxpayers should pick up the tab for uterus transplants for trans women. The organization explained that this surgery, which can cost hundreds of thousands of dollars per case, would help improve the health and well-being of biological males identifying as females.
In its June edition of the Journal of Ethics published this week, the authors claimed that numerous successful uterus transplantations among women would likely arouse interest among transgender people as well.
Yet, there is one significant hurdle in their way, the piece warns – the hefty price tag of anywhere between $100,000 and $300,000.
The article argued that such surgery should be at least partly subsidized by the government – the way other transplantations are – since it is "essential to well-being."
"Transwomen wanting to gestate children can plausibly justify subsidy of UTx on a number of grounds," the authors posited, adding that their inability to give birth "may cause them to experience psychological dissonance in a way that undermines their health and well-being."
The article noted that, aside from trans women, some trans men may also want to have a uterus transplantation to "gestate children." The authors pointed out, however, that such cases should be treated as ones of secondary importance.
"Even if there are limits on subsidies, the case could be made that no moral obstacle stands in the way of justifying subsidies for UTx for some transwomen and transmen," the authors conclude.
According to wombtransplantuk.org website, as of June 1, 2023, around 100 uterus transplants had been performed worldwide, with approximately 50 healthy babies born as a result.
You can share this story on social media: