Sandstorm turns sky over Marrakesh blood red (VIDEOS)
The storm caused significant damage and left one person dead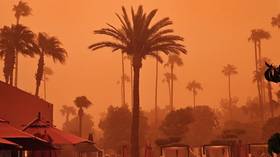 A sandstorm swept through Morocco on Thursday, bringing businesses to a standstill and killing one, local media reported.
Apocalyptic videos posted online show the sky obscured by a crimson haze and streets bathed in an orange glow.
The General Directorate of Meteorology stated that powerful winds that tore through the city reached speeds of up to 80 kilometers per hour, toppling trees.
"An 18-year-old young man lost his life after a tree fell on him in the Belk Street area near Jemaa el-Fna Square," a local media report said, adding that another man narrowly escaped being crushed.
Marrakesh, a popular tourist destination home to over one million people, is also currently experiencing record heat waves, with temperatures exceeding 48 degrees Celsius during the day.
You can share this story on social media: