UK PM forgets Brexit happened
Rishi Sunak's office has claimed that Britain has more AI companies than "any other EU country"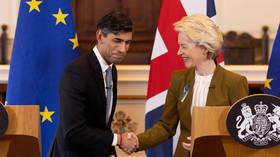 UK Prime Minister Rishi Sunak's office has apparently forgotten the 2016 Brexit referendum that led to the country's withdrawal from the European Union – or perhaps tried to wish it away.
No. 10 Downing Street's official account on X, the social media platform formerly known as Twitter, claimed on Thursday in a message touting the UK's investment in artificial intelligence (AI) that the nation was home to "twice as many AI companies as any other EU country." The post was deleted and replaced less than an hour later with a revised graphic saying, "twice as many AI companies as any EU country."
Ironically, Sunak supported the Brexit referendum as a Conservative Party lawmaker back in 2016, saying he saw it as a "once-in-a-generation opportunity for our country to take back control of its destiny." Earlier this year, Sunak struck a deal with the EU to ease the flow of UK goods into Northern Ireland, an agreement that former prime minister Boris Johnson denounced because it enabled the bloc to retain some control over trade in the country.
A freudian slip on the UK Prime Minister's twitter was quickly deleted once they realised it shows they think the UK is still an EU country. "Any other EU country." pic.twitter.com/3sqXa4yZth

— Peter (@deGourlay) August 10, 2023
Thursday's gaffe elicited laughs and tongue-in-cheek conspiracy theories on social media. Such observers as UK professor Jill Belch and businessman Peter Thompson suggested that the Brexit blunder might have been "wishful thinking" or a "Freudian slip."
If Sunak were to have regrets about supporting Brexit, he wouldn't be alone. A YouGov poll released last month showed that 57% of UK adults believe the vote to leave the EU was a mistake. A slim majority, 51%, said they favor rejoining the bloc. One in five respondents who claimed to have voted for Brexit in 2016 said they would vote to remain in the EU if they had it to do over again.
You can share this story on social media: