China claims US ally seeks to 'permanently occupy' disputed island
Manila accused Beijing of using "excessive" force during a standoff in contested waters last week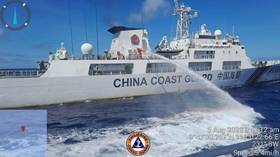 China has said the Philippines was to blame for a recent spat near the disputed Ren'ai Jiao atoll, which saw a Chinese military vessel unleash water cannons against two of Manilla's supply ships. Both countries claim the island is part of their sovereign territory.
The Chinese Foreign Ministry weighed in on the encounter on Tuesday, days after Philippines officials said Beijing carried out "aggressive maneuvers" against a pair of ships attempting to bring supplies to the contested atoll in the South China Sea.
The ministry stated that Ren'ai Jiao – known to Manila as the Second Thomas Shoal – is part of China, also noting that a Philippines military vessel has been "illegally" grounded on the island for decades despite vows to remove the purposely marooned ship.
"Twenty-four years have passed and instead of towing it away, the Philippines has sought to repair and reinforce it on a large scale in order to permanently occupy Ren'ai Jiao," a ministry spokesman said in a statement, adding that the project "gravely violates international law."
Though the Philippines was awarded rights to the atoll in 2016 as part of the South China Sea Arbitration, a process mediated under international maritime law, Beijing has declined to recognize the ruling, calling it "illegal, null and void." In its response to Manila's charges on Tuesday, the Foreign Ministry reiterated that "China does not accept or recognize" the decision, "and will never accept any claim or action based on the award."
Following the run-in last Saturday, the Philippines military said a China Coast Guard vessel acted "in wanton disregard of the safety of the people on board" the two supply ships, condemning its "excessive and offensive" use of a water cannon. It urged Beijing to "act with prudence and be responsible in their actions to prevent miscalculations and accidents that will endanger people's lives."
The US, a close partner to Manila, later commented on the incident, warning that it would defend its ally from any armed attack, while declaring that the Chinese ship "interfered with the Philippines' lawful exercise of high seas freedom of navigation." Japan and Australia issued similar statements, with Canberra calling Beijing's actions "dangerous and destabilizing."
The People's Republic has long condemned US and allied military action in the South China Sea, and warned Washington to stay out of territorial disputes in the region. US officials have nonetheless continued to denounce Beijing's actions in contested areas, while American warships have embarked on near-monthly 'freedom of navigation' missions since President Joe Biden took office in 2021.
You can share this story on social media: