Police bust global pedophile ring after fatal FBI shooting
Illicit material was shared through a "technologically sophisticated" network, Australian authorities have said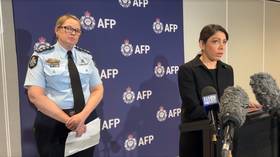 At least 98 people have been arrested in the US and Australia as part of a sweeping child sex abuse probe, according to officials in both countries. The investigation was launched after two US federal agents were shot dead while pursuing a suspect in 2021.
The FBI and the Australian Federal Police (AFP) announced the arrests during a joint press conference on Tuesday, noting that 19 people in Australia and another 79 in the US are now in custody, all facing charges linked to an alleged child abuse ring spanning multiple countries.
AFP Commander Helen Schneider said the suspects operated a "technologically sophisticated online child abuse network" on the dark web and "used software to anonymously share files," with some believed to have committed offenses for more than a decade. She added that most of the Australian suspects worked in occupations that require a "high degree" of knowledge about online networks, helping them to evade detection.
Two of the Australian men have already been convicted, according to Schneider, while FBI legal attache Nitiana Mann said there were another 43 convictions in the US. At least 13 children were removed from harm's way as a result of the probe.
"This operation was highly complex. The complexity and anonymity of these platforms means that no agency or country can fight these threats alone," Mann said, adding that the FBI had alerted the authorities in other countries about suspects within their jurisdictions, though did not mention any by name.
The sex abuse ring was first uncovered by the FBI in 2021, after special agents Daniel Alfin and Laura Schwartzenberger were fatally shot while serving a search warrant for suspect David Lee Huber in Florida. Three other agents were wounded in the firefight, after which Huber took his own life.
Evidence gathered following the deadly shootout would later tip off the bureau to a wider pedophile network beyond US borders, with the FBI passing intelligence about potential Australian members to the AFP last year. Dubbed 'Operation Bakis', the resulting joint probe is ongoing, and Schneider noted that future arrests should not be ruled out.
According to Mann, more than 200 international leads were sent to third countries throughout the operation, while over 300 separate child sex abuse investigations have been launched as a result.
You can share this story on social media: