Bear escape causes delays at Dubai airport
Iraq's prime minister has ordered an investigation into how the animal broke out of its crate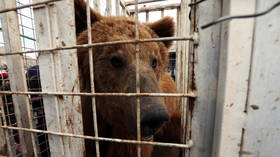 An Iraqi Airways flight from Dubai to Baghdad was delayed over the weekend when a bear escaped its cage in the plane's cargo hold, airline officials confirmed to the Associated Press on Sunday. The Iraqi prime minister is reportedly investigating how the creature broke loose.
Footage of the disoriented bear in the belly of the aircraft went viral on social media over the weekend. Another clip showed the pilot apologizing for the one-hour takeoff delay due to the unruly passenger. Other passengers were reportedly forced to disembark while the creature was sedated.
Iraqi Airways confirmed the bear was being flown from Dubai to Baghdad but declined to name its owner or give any information on why it was traveling.
"The company apologizes to the passengers of the flight from Baghdad International Airport to Dubai Airport for reasons beyond the control of the company," the airline said in a statement on its website on Saturday, adding that "the plane crew co-ordinated with UAE's authority who sent a specialized team to sedate the animal and take it off the plane."
The airline insisted it had followed the correct procedures and standards for transporting the bear established by the International Air Transport Association (IATA) and confirmed that the plane and the cargo hold were checked for damage before returning to Baghdad.
While keeping apex predators like bears as pets has become a trend among wealthy Iraqis as it is among the elite of Dubai and Riyadh, animal rights activists have called for the practice of keeping bears to be banned.
You can share this story on social media: