US deploys 3,000 troops to Middle East
The move comes after Iran boosted its own naval capabilities with a series of new weapons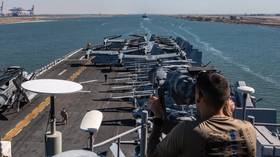 The US military has deployed thousands of troops and additional naval assets to the Middle East to "deter" Iranian forces, after Washington accused Tehran of harassing commercial vessels and other "destabilizing" actions.
The US Navy's 5th Fleet announced the decision on Monday, noting that more than 3,000 marines and sailors had arrived in the Red Sea aboard an amphibious assault ship and a dock landing vessel the day before.
"These units add significant operational flexibility and capability as we work alongside international partners to deter destabilizing activity and deescalate regional tensions caused by Iran's harassment and seizures of merchant vessels earlier this year," 5th Fleet spokesman Commander Tim Hawkins told The Hill in a statement.
The amphibious assault ship sent in the latest deployment, the USS Bataan, also carried additional air assets, the Navy added. Though it did not specify the systems on board, the military said that the ship can carry more than two dozen rotary-wing and fixed-wing aircraft, including the Osprey tilt-rotor aircraft and AV-8B Harrier attack jets, in addition to a number of landing craft. The smaller USS Carter Hall, a docking ship, will act as a support vessel for operations involving landings or amphibious attacks.
According to US Central Command, Defense Secretary Lloyd Austin ordered the move in July "in response to recent attempts by Iran to seize commercial ships" in the region. Though Washington has repeatedly accused the Islamic Republic of such seizures since 2019, the allegations have become louder in recent months, with the Pentagon announcing several new deployments in that time.
In mid-July, the US Defense Department said it would send F-35 and F-16 fighter jets to the Middle East alongside a guided-missile destroyer to "defend US interests and safeguard freedom of navigation," citing Iran's "destabilizing" activities in the Strait of Hormuz. This followed another naval deployment earlier this year, while Washington is now reportedly considering whether to station armed personnel aboard commercial ships to prevent Iranian seizures.
Just one day before the USS Bataan arrived in the Red Sea, Iranian state media reported that the country's Navy had been outfitted with new weapons, including reconnaissance and combat drones, electronic warfare equipment, truck-mounted missile launchers, and hundreds of cruise and ballistic missiles. Commenting on the new capabilities, Navy Commander Alireza Tangsiri said the systems would improve accuracy and enable longer-range strikes.
Iran has repeatedly condemned the US for "warmongering" and escalating tensions with its regular military activity around the Persian Gulf. Following another encounter with a commercial ship accused of smuggling last month, Iranian Rear Admiral Ramazan Zirrahi claimed US warplanes tried to help the ship escape, but were unsuccessful.
You can share this story on social media: