The EU is a 'failed project' – German party
The right-wing Alternative for Germany wants the bloc to focus on border security and strategic autonomy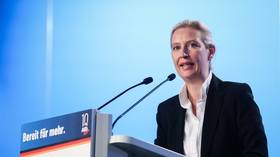 The European Union's migration, climate, and monetary policies have "completely failed," according to a policy document adopted by the right-wing Alternative for Germany (AfD) party on Sunday. However, the party aims to change the EU from within rather than withdraw from the bloc.
AfD delegates adopted the document at a party conference in the eastern city of Magdeburg on Sunday. The paper describes the EU as a "failed project," and calls for the bloc to be reformed as a "federation of European nations," with significant sovereignty ceded back to its member states.
"The EU and the globalist elites that support it have strayed from the original idea of the founding fathers of a European community adopted many years ago," the document states, citing the 2007 Lisbon Treaty – which gave the EU the power to act as a single legal entity and made EU law supersede national law – as the moment when the bloc became "an EU super state."
Among a lengthy list of reforms, the AfD is proposing that the EU strengthen its external borders, lessen its military reliance on the US by following a policy of "strategic autonomy," and protect the "diversity of cultures and traditions of the peoples of Europe" from immigration.
While a draft version of the document released in June called for the "orderly dissolution of the EU," this language is absent from the final version.
The party also chose 35 candidates to contest next year's European Parliament elections at the Magdeburg conference. The list is led by Maximilian Krah, who has been an MEP since 2019. The AfD currently holds nine seats in the parliament, and is the third-largest German party in the EU legislature.
At home, the AfD is currently polling at a record high of 21%, according to Politico. This figure puts the party ahead of Chancellor Olaf Scholz's Social Democrats (SPD) and behind only former chancellor Angela Merkel's Christian Democratic Union (CDU). However, Germany's mainstream parties have repeatedly ruled out entering into coalition with AfD, and a government-funded watchdog group recently called for the party to be banned for its "racist and nationalist" positions.
The latest polling figures suggest a doubling in the AfD's support since 2021, when it garnered 10.3% of votes in the parliamentary elections. This surge in popularity comes as Germany's economy reels in the wake of Berlin's decision to impose sanctions on Russia, which was formerly the country's leading energy supplier. At a rally last year, AfD co-leader Tino Chrupalla accused Scholz's government of waging an "economic war" on the German people by cutting the country off from Russian energy imports.
You can share this story on social media: