China to send delegation to Ukraine peace summit
Beijing has accepted an invitation from host Saudi Arabia to join talks on bringing an end to Kiev's conflict with Russia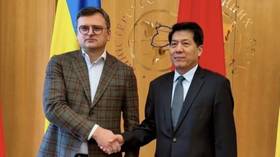 The Chinese Foreign Ministry has announced plans to participate in an upcoming peace summit hosted by Saudi Arabia, continuing Beijing's efforts to help bring an end to the Russia-Ukraine conflict.
China's special representative for Eurasian affairs, Li Hui, will lead the delegation to Jeddah, the ministry said on Friday in a statement. "China stands ready to work with the international community to continue to play a constructive role in seeking a political settlement of the Ukraine crisis," the ministry added.
Around 30 countries have reportedly been invited to attend the summit, which is scheduled to be held on Saturday and Sunday. The US, the UK, South Africa and Poland are among the nations that are expected to participate. Russia is excluded from the gathering, even though Moscow would presumably have some say over any proposed peace agreement.
Saudi Arabia, which has good relations with Beijing, was chosen as the host nation at least partly to help persuade China to attend, the Wall Street Journal reported last week, citing unidentified diplomats. Invitations also were extended to such countries as India, Brazil, Indonesia, Egypt and Mexico. In fact, Russia is the only member of the BRICS economic bloc that hasn't been invited.
Chinese President Xi Jinping proposed a 12-point blueprint to end the fighting in Ukraine in February. US officials dismissed the proposal, saying it would benefit only Russia. NATO Secretary-General Jens Stoltenberg claimed China doesn't have much "credibility" on the issue because it has declined to condemn Russia for attacking Ukraine.
Russian officials have accused the US and other NATO members of prolonging the conflict, causing more bloodshed, by sending billions of dollars' worth of weaponry to Ukraine. In just the past two months, since Kiev's counteroffensive began in the Donbass region, more than 43,000 Ukrainian troops have been killed, the Russian Defense Ministry said on Friday.
You can share this story on social media: