Trudeau and wife announce separation
Canada's first couple has split for undisclosed reasons after nearly 20 years of marriage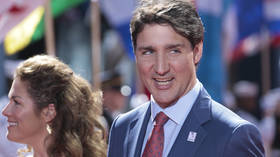 Canadian Prime Minister Justin Trudeau and his wife Sophie Gregoire are separating after 18 years of marriage, the pair announced in matching Instagram posts on Tuesday.
Citing "many meaningful and difficult conversations," the Trudeaus explained they "remain a close family with deep love and respect for each other" and urged the public to respect their privacy and that of their children.
Trudeau and his wife have signed a legal separation agreement, according to a statement released by the prime minister's office, which explained that the couple had "worked to ensure that all legal and ethical steps with regards to their decision to separate have been taken, and will continue to do so moving forward."
They will co-parent their children, aged 15, 14, and 9, and will continue to appear together in public, the press release stated. The pair is scheduled to vacation as a family next week. No reason for the separation has yet been made public.
Trudeau married Gregoire, a former television host, in 2005. He became prime minister in 2015. While Gregoire was often seen with him at official functions when he was first elected, she has been less visible in recent years, failing to appear at a dinner for NATO leaders and their spouses during the bloc's recent summit in Vilnius, among other events.
The separation agreement comes just a week after Trudeau announced a reshuffle of his cabinet – a public event from which Gregoire was also noticeably absent. This was the first major overhaul of his government since his reelection two years ago and saw all but eight members of his administration assigned new roles.
By separating from his wife in the midst of his tenure as prime minister, Trudeau continues to follow in the footsteps of his father Pierre, who split from his own wife Margaret in 1979 while also serving as prime minister. The younger Trudeau is only the second Canadian prime minister to announce a separation while in office; his father was the first.
Despite his declining popularity and a near-miss election in 2021, Trudeau has said he plans to lead his party to victory in the next poll, which will take place in 2025.
You can share this story on social media: