Italian PM sues rock star for calling her 'fascist'
Placebo lead singer Brian Molko criticized Giorgia Meloni during a packed concert in Italy where he also addressed LGBTQ issues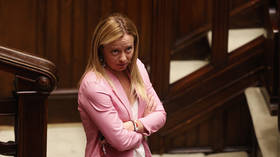 Italian Prime Minister Georgia Meloni is suing Placebo lead singer Brian Molko for defamation after the frontman called the politician a "fascist, racist" during a concert on July 10th in Turin.
In his remarks, the singer went as far as to call the Italian official "a piece of s**t." The video recording of the moment has spread widely on the internet, despite Molko's request to the audience not to film the performance.
Molko addressed the 10,000 fans on several topics, including calling for greater protections for non-binary and transgender people.
Turin city prosecutors opened an investigation into the British singer a week after the incident. According to Italy's criminal code, anyone who publicly defames the government, parliament or the army can be fined up to €5,000.
The outcry after Molko's remarks has cast doubt on whether the band's tour can continue. However, the band performed in Sassari, Italy, on August 1st. Local Mayor Nanni Campus stated that his municipality doesn't "condemn anyone and does not teach anyone," adding that "if Placebo commits obscene acts, vulgarity, they will answer to the judiciary, not to the mayor or the junta."
Georgia Meloni leads the national-conservative Brothers of Italy Party, which traces its heritage back to the Italian Socialist movement, founded by allies of fascist dictator Benito Mussolini. Meloni secured a victory during the 2022 elections on an anti-immigration platform and plans to limit LGBTQ rights as part of her agenda. She has faced criticism over her politics from Western counterparts, while dismissing accusations that she leads a "fascist" party as "false propaganda" during a recent interview with Sky TG24.
You can share this story on social media: