Italian PM defends LGBT record after Trudeau slight
The Canadian prime minister criticized Rome's "positioning" on LGBT issues during the G7 summit in Japan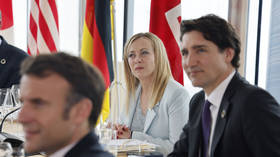 Italian PM Giorgia Meloni has defended her record on LGBT issues during the weekend's G7 meeting, telling reporters that Canadian PM Justin Trudeau was "the victim of fake news" after he expressed concern about her actions on LGBT rights in front of reporters on Friday.
With television cameras rolling, Trudeau told Meloni that "Canada is concerned about some of the positions Italy is taking on in terms of LGBT rights" and said he was looking forward to discussing the issues with her. She made a face but said nothing in response.
Meloni was reportedly "surprised" to hear her Canadian counterpart broach the issue, as it was not on their agenda for the meeting, Italian media later reported.
Speaking to the press before leaving Hiroshima on Sunday, Meloni explained that Trudeau had been "a bit rash" in his comments but had probably come to realize after talking with her that what was written about her in the media bore little resemblance to reality and that he had been "the victim of fake news." She added that she has not actually changed any laws regarding LGBT in the country.
Meloni and Trudeau "exchanged views on the importance of protecting and defending human rights, including the rights of LGBTQI+ people," according to a statement from Trudeau's office released on Friday. "Meloni responded that her government is following court decisions and is not deviating from previous administrations," the statement continued.
Italy's Interior Ministry earlier this year told city councils to stop registering both members of a same-sex couple as parents of a child and instead only register the biological parent. The procedure arose from the manner in which foreign birth certificates of children conceived via surrogate were transcribed to comport with Italian law, which prohibits surrogacy and limits assisted fertility to heterosexual couples. LGBT activists have denounced the advisory as homophobic.
Meloni has espoused traditional views with regard to gender, explaining in an interview in March that "being a man or a woman is rooted in who we are, and can't be changed."
The prime minister's culture spokesman ruffled feathers last year when he said "presenting [same-sex couples] as normal is wrong, because it is not" and "in Italy homosexual couples are not legal, are not allowed" in a television interview. Italy legalized same-sex civil unions in 2016.
You can share this story on social media: