Twitter sues censorship advocate
The Center for Countering Digital Hate is accused of trying to scare advertisers away from the platform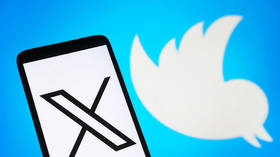 X Corp – the company formerly known as Twitter – filed a lawsuit against the UK-based nonprofit Center for Countering Digital Hate (CCDH) on Monday, accusing the NGO of seeking to stifle free expression and open discussion on X's platform by scaring away advertisers.
Describing the CCDH as an "activist organization masquerading as [a] research agenc[y], funded and supported by unknown organizations, individuals, and potentially even foreign governments with ties to legacy media companies," the suit accuses the group of initiating a "scare campaign to drive away advertisers" – whose investment X requires to continue to operate its platform as a free service.
In a blog post accompanying the suit, X also accused the CCDH of "targeting people on all platforms who speak about issues the CCDH doesn't agree with, attempting to coerce the deplatforming of users whose views do not conform to the CCDH's ideological agenda, targeting free-speech organizations by focusing on their revenue stream to remove free services for people, [and] attempting to illegally gain unauthorized access to social media platform data and to misuse that data."
The censorship advocate also "scraped" X's platform, slurping up all available data – something X's terms of service forbids – and illegally accessed X's data via a borrowed login from advertising analytics platform Brandwatch, according to the suit. This data was then used "out of context" to claim a "surge in harmful content" had driven advertisers away from X, it states.
The unnamed Brandwatch user who assisted the CCDH is among the 50 'John Doe' defendants listed in the suit – co-conspirators X claims is working with CCDH to sabotage X, explaining their real names will be added as their true identities are discovered.
X does not ascribe a dollar value to the damage that CCDH's "research" has cost it, referring only to "at least tens of millions of dollars," and demanding that the censorship advocate cease using the stolen data.
CCDH CEO Imran Ahmed dismissed Musk's claims, telling CNN the lawsuit "sounds a bit like a conspiracy theory to me" and accusing the billionaire of blaming Ahmed for "his own failings as a CEO." The CCDH has repeatedly alleged that Musk has made X a haven for bigotry, most recently airing its claims in a July 19 Bloomberg article that asserted: "hate speech towards minority communities increased" under his leadership.
The lawsuit came less than 24 hours after the CCDH published a letter from what was then known as Twitter, dated July 20, accusing the NGO of "regularly" making "inflammatory, outrageous, and false or misleading assertions about Twitter and its operations," while positioning such assertions as scientifically-rigorous "research." The CCDH countered that Twitter was trying to "silence honest criticism" via legal intimidation.
You can share this story on social media: