New York City paying Covid test company millions to dump migrants – NYT
Asylum seekers are allegedly coerced or lured onto buses with fake promises of jobs and legal documents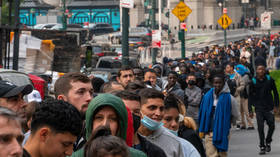 New York City paid a mobile medical services company $432 million to carry out the mayor's plan to bus thousands of migrants to upstate towns that didn't want them, the New York Times reported on Sunday.
The questionable no-bid contract, which was not approved by the city comptroller, saw DocGo pivot from offering Covid-19 testing and vaccination on-the-go to dumping asylum seekers in small towns and cities that didn't have the resources to handle them, according to the investigation.
Migrants told the NYT that they were lured upstate with promises of comfortable accommodation and plentiful work. Instead, they said, they were given fake work and residency permits, some printed on phoney New York City letterhead, all rejected when they tried to present them at the local Department of Motor Vehicles to secure an ID.
Meanwhile, officials in destination cities and towns – including New York's capital, Albany – said they weren't even given the migrants' names – let alone information that would help connect them to immigration assistance. DocGo reportedly cited medical patient privacy laws in justifying its refusal to share the information.
The town supervisor for Albany suburb Colonie sued the city after two busloads of migrants arrived at the SureStay Hotel in May and cited it for keeping the illegal tenants past the 28 consecutive days allowed by law. The business nevertheless accepted three more busloads of migrants from New York City last weekend.
At the SureStay, security guards allegedly threatened to kick the migrants out of the 'program' if they were caught talking to reporters and could be seen in a video posted by the NYT threatening to beat up one interview subject for "talking too much." Signs plastered all over the hotel warned migrants in four languages that being caught drinking, smoking, or engaging in "threatening behavior" would render them ineligible for asylum. DocGo removed the signs when questioned by the Times, claiming it was unaware of their existence, and NYC officials claimed there was no rule prohibiting media interviews.
More than half of the counties in New York have declared emergencies over the migrant influx since May, when New York City Mayor Eric Adams announced the city had more migrants than it could handle and began busing them upstate. The city is facing numerous lawsuits over the program.
In June, the city began paying religious facilities to house migrants after a plan to put them in school gymnasiums met with vehement resistance from parents and Adams' plea for private property owners to open their doors to the 90,000-plus illegals who have swamped the city since the spring went largely unheeded.
You can share this story on social media: