NYC to house migrants in churches
Around 50 participating places of worship, with capacity to house 1,000 people, do not even cover a week's worth of new arrivals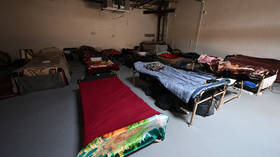 Churches, mosques, and synagogues across New York City will double as migrant shelters starting next month, Mayor Eric Adams announced on Monday. The city is struggling to manage the 45,900 recently-arrived illegal immigrants – mostly adult men – who have poured in over the last year.
As many as 50 places of worship will house about 19 adult men overnight per location in a two-year partnership with New York Disaster Interfaith Services, Adams explained in a statement. They will be reimbursed for the cost of feeding and sheltering the men, and the city will open five daytime centers to allow the locations time for holding services.
"Not only will this increase the space we have by nearly 1,000 beds, but it will also connect asylum seekers with local communities," the mayor said, lamenting the "influx of asylum seekers" he welcomed a year ago. More than 72,000 illegal immigrants have arrived in the city since last spring, and the arrivals have only accelerated, with 2,200 arriving in a single week recently.
The price tag – totaling $125 per night per migrant including laundry services and security, according to Fox News – is significantly lower than the cost to house the illegals in hotels and other facilities, which reportedly averages $380 per day.
The "national crisis [is] being paid for by New York taxpayers," Adams complained, pointing out that the city has spent $1.2 billion on sheltering migrants but the federal government has only ponied up $40 million – "enough to pay for five days" of food and shelter for the city's new wards. "It's unfair and it's not right," he said.
The plan to place migrants in houses of worship has been in the works for months. The city's Office of Faith-Based and Community Partnerships reached out in December to clergy at Christian churches, Jewish synagogues, and Muslim mosques in the midst of what the office's director Gil Monrose called "an unprecedented influx of asylum seekers." Their number has more than tripled since the city first reached out, but worship spaces can only provide a roof for a maximum of 20 migrants without running afoul of local shelter laws.
Efforts to house the new arrivals in public school gymnasiums recently met with vehement protest from parents, who voiced concerns for their children's safety and slammed the city for allegedly sneaking the migrants into school facilities under cover of night.
More than half of New York's 62 counties have declared states of emergency over the migrant influx as Adams struggles to relocate the city's burden across the more sparsely-populated areas of the state.
You can share this story on social media: