Instagram blocks journalist over link to RT
The US social media giant has demanded that a Dubai-based reporter, Lubna Hamdan, delete a link to an RT article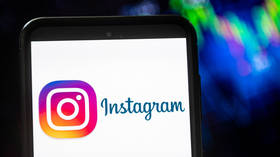 Instagram has suspended the account of a Dubai-based journalist and YouTube talk show host, Lubna Hamdan, after she posted a link to an article she wrote for RT in her bio, the journalist herself revealed on Sunday. The platform, owned by the US social media giant Meta, told the reporter that a link to the Russian media holding violates its terms of service.
Screenshots posted by Hamdan on social media show Instagram telling her that "this link is stopping you from accessing certain features" and demanding that the link be "removed." The platform also specified that the 'rt.com' domain was the source of the problem.
The social network then stated that it only bans links with "spam, support or praise of terrorism, organized crime of hate groups," as well as "solicitation of sexual services" or "sale of firearms and drugs." It did not explain how a link to rt.com relates to any of the listed categories.
"The app wasn't allowing me to post any stories, comment anywhere or like anything," Hamdan tweeted on Sunday. "So much for American 'democracy.' So pathetic!" she added.
Because I had a link to an article I wrote on @RT_com on my Instagram bio, the app wasn't allowing me to post ant stories, comment anywhere or like anything. This started today. These are the messages I got. So much for American "democracy". So pathetic!! pic.twitter.com/orUb2dScX1

— Lubna Hamdan (@LubnaHamdan0) July 30, 2023
The journalist said she was only allowed to post on her Instagram page again after removing the link.
Hamdan produces and hosts her own YouTube business talk show, Greenback. She previously worked as an editor for Arabian Business. The article Hamdan wrote for RT in mid-July was focused on her experience of visiting Moscow and living in Dubai. She also discussed tourism in both capitals.
Western social media giants and internet platforms were quick to comply with US and EU sanctions on Russia after the conflict between Moscow and Kiev broke out. The EU banned all "Russian state media" after the military operation in Ukraine began in February 2022, including all of RT's channels.
YouTube was quick to follow suit and apply the EU ban globally, even though it continued operating in Russia. In November 2022, Meta, the parent company of both Instagram and Facebook, amended its "violent speech" rules to allow calls of "death to Russians" in the West. The Russian Justice Ministry put it on its list of extremist organizations in response.
Moscow's decision affected Facebook and Instagram, but not the messaging platform WhatsApp, because it fell under a different legal category. In March 2023, Facebook banned the RT Arabic page, which had 17 million subscribers, without providing any explanation.
You can share this story on social media: