Man spends $15,000 to 'become a dog' – media
The man, known only as Toco, says he keeps his canine identity a secret from friends and family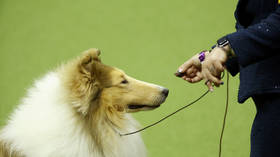 A Japanese man known only as Toco says he has fulfilled a childhood dream by spending almost $15,000 to create a hyper-realistic costume of a collie dog.
In videos posted to the man's YouTube channel, which is followed by nearly 30,000 fans, Toco can be seen wearing the intricate costume in public while being led around on a leash, where he sniffs other dogs in a park and performs other dog-like activities such as rolling around on the grass.
"I became a collie, fulfilling a dream I had since I was a little child to be an animal," Toco was quoted as saying at the beginning of one of the video clips. He doesn't speak in any of the videos, apparently to maintain the canine illusion.
"Do you remember your dreams from when you are little? You want to be a hero or a wizard," he explained. "I remember writing in my grade school graduation book that I wanted to be a dog and walk outside."
While the four-legged version of Toco is unashamed to parade in public as a popular breed of herding dog, however, the human version isn't quite so comfortable revealing what he does in his spare time.
A Japanese man, known only as Toco, spent $16K on a realistic rough collie costume to fulfill his dream of becoming a dog. His identity remains anonymous, even to friends and coworkers.pic.twitter.com/9sfdph3Kb5

— BoreCure (@CureBore) July 28, 2023
"I don't want my hobbies to be known, especially by the people I work with," he told the Daily Mail last year. "They think it's weird that I want to be a dog. For the same reason why I can't show my face."
He added in a separate interview with UK publication the Mirror: "I rarely tell my friends because I am afraid they will think I am weird. My friends and family seemed very surprised to learn I became an animal."
Toco's first time venturing outside in full collie regalia was last September in the controlled environment of his backyard – but even without prying eyes affixed to him, Toco said the experience had left him feeling "nervous and a little scared."
The costume through which Toco lives out his dog fantasies was created by a Japanese company called Zeppet, which specializes in creating costumes to be used in television and movie productions.
You can share this story on social media: