No better time for Ukraine peace talks than now – NATO member
The conflict between Moscow and Kiev cannot be resolved on the battlefield, Hungarian Foreign Minister Peter Szijjarto has said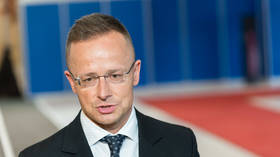 Conditions for negotiations to end the Ukrainian conflict will only worsen, Hungarian Foreign Minister Peter Szijjarto predicted in Budapest on Friday. The two sides, he believes, wouldn't be in a better position for talks than now.
At present, Moscow is prepared to seek a diplomatic solution to the crisis, according to Russian President Vladimir Putin, while Kiev and its backers, including the US and NATO, are still refusing to enter such talks.
"There will be no better conditions for peace negotiations than the present," Szijjarto told journalists on Friday following his meeting with the Turkish foreign minister, Hakan Fidan. "Yesterday's conditions were better than today's, and tomorrow's conditions will be worse than today's," the Hungarian minister added.
Budapest still believes that "there is no [military] solution" for the conflict, Szijjarto said.
Hungary has emerged as one of the most active advocates of a negotiated solution to the ongoing conflict.
Hungarian officials, including Szijjarto and Prime Minister Viktor Orban, have repeatedly called for a ceasefire and peace deal in Ukraine, and have criticized the EU for sending arms to Kiev. Budapest has also been adamant that anti-Russia sanctions hurt Europe more than they hurt Moscow. In June, Orban told German tabloid Bild that a Ukrainian victory on the battlefield is "impossible."
This week the prime minister also said that Kiev had virtually "run out of strength" and the only thing keeping Ukraine "alive" was Western financial assistance.
Moscow has repeatedly signaled that it is ready for peace talks with Ukraine. It has also blamed Kiev for the lack of progress in diplomacy, citing a decree signed last year by President Vladimir Zelensky that prohibits talks for as long as Russia's Putin remains in power.
Last month the Ukrainian leader reiterated his stance, that talks with Moscow could only start after Russian forces withdraw from all Ukrainian territory within its 1991 borders, including Crimea. Russia has rejected such demands as unrealistic.
Speaking at the Russia-Africa summit in St. Petersburg on Friday, Putin said that the ongoing conflict is rooted in threats posed to Russia's security by NATO. Washington and its allies "reject negotiations on the issues of assuring equal security," he added.
You can share this story on social media: