NATO refuses to talk to Russia – Putin
The president says that differences should be resolved at the negotiating table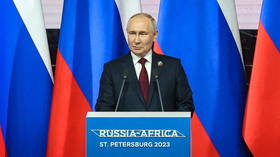 Russia is prepared to seek a diplomatic solution to the crisis in Ukraine but Kiev and its backers in the US and NATO refuse to talk to Moscow, Russian President Vladimir Putin has said.
"All differences must be solved at the negotiating table," Putin told African leaders during the Russia-Africa Summit in St. Petersburg on Friday.
"The problem is that they [Ukraine] are refusing to talk to us," he insisted.
"The current Ukrainian regime is also rejecting negotiations, and announced that officially. Ukrainian President [Vladimir Zelensky] had signed a relevant decree" last autumn, Putin said.
The Russian leader claimed that the root of the conflict between Moscow and Kiev was "the creation of threats to Russia's security by the US and NATO."
However, Washington and its allies also "reject negotiations on the issues of assuring equal security for all sides, including Russia," he added.
"We've said many times – and I've stated it officially – that we're ready for those talks," Putin insisted.
"We can't force those negotiations on them," he said, adding that "there needs to be dialogue with the other side too" on the part of the international community in order to persuade Ukraine to engage in talks.
Putin also stressed that Moscow is "grateful to African friends" for their efforts to find a peaceful solution to the Ukraine conflict.
A mission of senior African leaders and officials, including the presidents of South Africa, Senegal, and Zambia, visited St. Petersburg and Kiev in mid-June to propose their ten-point peace initiative to Putin and Zelensky.
The African plan calls for security guarantees and the free movement of grain through the Black Sea, as well as the release of prisoners and the swift start of peace negotiations, among other proposals.
In an interview with RIA Novosti on Thursday, Comoros President Azali Assoumani, who serves as chairman of the African Union (AU) and was part of the peace delegation, said that he and his counterparts "haven't yet received any convincing confirmation of his [Zelensky's] interest" in engaging in negotiations with Russia.
Last month, the Ukrainian leader reiterated his stance that talks with Moscow could only start after Russian forces withdraw from all Ukrainian territory within its 1991 borders, including Crimea.
Russia has rejected Zelensky's demands as unrealistic, arguing that they are a sign of Kiev's unwillingness to settle the conflict through diplomatic means. According to Moscow, this leaves it with no choice other than to continue working toward achieving its goals in Ukraine through military means.
You can share this story on social media: