Singapore carries out first female execution in 20 years
Critics of the policy claim that drug-related capital punishment has little impact on the availability of narcotics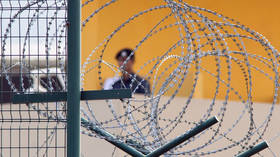 Singapore hanged a female prisoner on Friday, who had been convicted in 2018 of trafficking around 30 grams (about an ounce) of heroin into the country. It is the first instance of a woman being sentenced to capital punishment in the Asian nation in nearly two decades. The execution has prompted scorn from international human-rights watchdogs.
45-year-old Singaporean national Saridewi Djamani was put to death on Friday, the country's Central Narcotics Bureau said, in what was the second execution in the span of a week. Saridewi is the first female prisoner to have been judicially killed since a 36-year-old woman was executed in 2004, also on drug-trafficking charges.
In a statement on Friday, Chiara Sangiorgio, a specialist on death-penalty reform for Amnesty International, called the executions "unlawful" and said they "cast a harsh and tragic spotlight on the complete lack of death-penalty reform in Singapore." Sangiorgio claimed Singaporean authorities continue to violate "international human rights law and standards."
Saridewi's killing is the fifteenth since Singapore resumed executions in March 2022 after the practice was paused for two years during the Covid-19 pandemic. Since its resumption, the island city-state has carried out an average of one execution per month.
During her trial, Saridewi had unsuccessfully argued that she was not capable of providing accurate statements to police because she was suffering from drug withdrawal while being questioned.
Singapore's Central Narcotics Bureau added in a statement on Friday: "Saridewi was accorded full due process under the law and was represented by legal counsel throughout the process." It added that an appeal for clemency to Singapore's president Halimah Yacob was unsuccessful.
Singaporean authorities insist the strict drug laws are supported by vast swaths of the community and keep the country relatively free of drug-related crime. Critics like Amnesty's Sangiorgio dispute this: she added in her Friday statement that there is "no evidence" that the death penalty has a deterrent effect on the availability of narcotics.
Michel Kazatchkine of the Global Commission on Drug policy agrees. "This is fundamentally a violation of international human rights law, because it is a disproportionate punishment," he said, in comments carried by the Guardian on Friday.
According to Amnesty International, Singapore is one of just four countries to have recently conducted executions related to drug crime, China, Iran and Saudi Arabia being the others.
You can share this story on social media: