US charges Chinese companies in fentanyl sting
A Wuhan-based biotech firm has been accused of smuggling the drug's precursor chemicals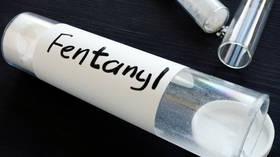 The US Department of Justice on Friday unsealed three federal indictments against four Chinese companies and eight individuals, alleging they had manufactured and supplied precursor chemicals for the lethal drug fentanyl. One indictment claims the defendants were in league with the Mexican drug cartels.
"Today, we target the very beginning of the fentanyl supply chain: the Chinese manufacturers of the raw chemicals used to make fentanyl and its analogues," Damian Williams, US attorney for the Southern District of New York, (SDNY) said in a statement.
The SDNY indictment charges Amarvel Biotech with "fentanyl trafficking, precursor chemical importation, and money laundering." Amarvel is based in Wuhan, in Hubei province.
Two Amarvel employees, Qingzhou 'Bruce' Wang and Yiyi 'Chiron' Chen, were arrested earlier this month. They were expelled from Fiji on June 8, arrested by the US Drug Enforcement Administration (DEA) and appeared before a federal judge in Hawaii on June 9. The suspects are currently in a Honolulu jail. A third named employee, Fnu Lu 'Anita' Yang, remains at large. All three are Chinese nationals.
Williams described Wang and Chen as "a corporate executive and a marketing manager" and said they were "in American handcuffs. And they're going to face justice in an American courtroom."
According to the US government, Amarvel has "openly advertised" deliveries of fentanyl precursor chemicals to the US and Mexico, including the city of Culiacan, home of the notorious Sinaloa Cartel. The company has also allegedly advertised using deceptive packaging, labeling the contents as "dog food, nuts, or motor oil" to avoid detection.
The indictment claims Amarvel shipped approximately 999.7 grams of 1-boc-4-AP, approximately 1,002.6 grams of 1-boc-4-piperidone – both fentanyl precursors – and approximately 893.6 grams of the methamphetamine precursor methylamine, from China to New York, in exchange for payments in cryptocurrency. They interacted with at least two DEA confidential sources during the eight-month-long undercover investigation.
The DEA ended up confiscating more than 200kg of fentanyl-related precursor chemicals, enough to manufacture up to 55kg of the drug, described as "enough deadly doses to kill 25 million Americans."
The Eastern District of New York unsealed two more indictments on Friday. One charged Anhui Rencheng Technology Co. Ltd. and Anhui Moker New Material Technology Co., as well as Shutong Wang and Shifang 'Eva' Ruan, with "conspiracy to manufacture and distribute fentanyl, manufacture of fentanyl" and related offenses, as well as conspiracy to distribute the controlled substance butonitazene. Two more Chinese nationals, Xinyu 'Sarah' Zhao and Yue 'Ellie' Gao, were charged with customs fraud and mislabeling of drugs. The second indictment charges Hebei Gesuke Trading Co. Ltd. and Ruiqing Li with similar offenses.
The companies involved allegedly added "masking" molecules to their fentanyl precursors, slightly altering the chemical signature to evade testing protocols and relevant regulations. The US government alleges they also provided instructions to buyers on how to remove the masking molecules upon receipt, and improve fentanyl yield from the precursors provided.
Fentanyl is a highly addictive synthetic opioid, considered 50 times more potent than heroin.
You can share this story on social media: