Era of 'global boiling' has arrived – UN chief
Secretary General Antonio Guterres announced that July 2023 will be hottest month in recorded history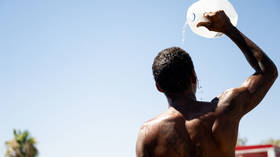 UN Secretary-General Antonio Guterres warned on Thursday that climate change has reached a "terrifying" level, with July on track to go down as the Earth's hottest month on record, portending greater consequences ahead if stronger action isn't taken to reduce fossil-fuel consumption.
"The era of global warming has ended," Guterres told reporters in New York. "The era of global boiling has arrived. The air is unbreathable, the heat is unbearable, and the level of fossil-fuel profits and climate inaction is unacceptable."
Guterres cited data from the World Meteorological Organization (WMO) and the EU's Copernicus Climate Change Service to claim that July will be the hottest month ever recorded. "Humanity is in the hot seat," he said. "For scientists, it is unequivocal: Humans are to blame. All this is entirely consistent with predictions and repeated warnings. The only surprise is the speed of the change."
The July record will not be an isolated event because seasonal forecasts indicate that temperatures are likely to remain well above average, said Copernicus director Carlo Buontempo. "Extreme weather, which has affected many millions of people in July, is unfortunately the harsh reality of climate change and a foretaste of the future."
Chris Hewitt, the WMO's director of climate services, told reporters there was a 98% likelihood that at least one of the next five years will break the record for the hottest year on record.
Guterres argued that there is "no more time" for world leaders to make excuses and wait for others to take action first. "Accelerated temperatures demand accelerated action," he said.
Among the actions the UN secretary general called for was ending use of coal in developed countries by 2030 and in the rest of the world by 2040.
You can share this story on social media: