WHO warns of imminent 'extreme weather events'
The international body predicts a major uptick in droughts, floods, hurricanes and other natural disasters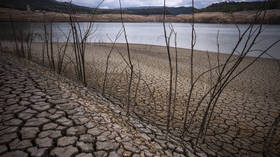 World Health Organization (WHO) Director-General Tedros Ghebreyesus has said climate change will drive a surge in "extreme weather events" in 2023, pointing to record-breaking temperatures around the globe this week.
Speaking during a Wednesday press briefing, Tedros said the "climate crisis" is now among the "major factors determining human health outcomes," warning that global warming could ultimately produce a "wave of hunger, migration and disease."
"Over the coming months, we expect a range of extreme weather events, including droughts, floods, hurricanes, and heatwaves, all of which harm human health," he said, also noting that Monday marked the "hottest day on record" for average temperatures around the world.
A "prolonged drought" and heat wave in the Horn of Africa has already had a major impact, putting great strain on local healthcare services, Tedros added. Containing Djibouti, Ethiopia, Kenya, Somalia, South Sudan, Sudan and Uganda, the region recently suffered its worst drought in decades, with nearly 60 million people now food insecure.
Some countries have seen the "highest levels of severely malnourished children" in years, largely thanks to famine, the WHO chief said. While the drought in the region has "given way to heavy rain and flooding," hunger levels there "are expected to remain high."
Data released by the US National Centers for Environmental Prediction (NCEP) on Monday showed an average global temperature of 17.01 degrees Celsius (62.62F), an all-time high that easily beat the previous record of 16.92 degrees.
Locales from Texas to China to Antarctica have also been in the grips of major heat waves, which some climate scientists have attributed to overall global warming and a stronger-than-usual El Nino warm-weather pattern this year.
El Nino is a periodic weather cycle in which warm air is pushed away from the tropics in the Pacific Ocean, having far-ranging effects on temperature and rainfall around the world. The warm phase can produce extreme weather, including hurricanes, and recent research suggests such events have become more frequent over the years allegedly due to the effects of climate change.
You can share this story on social media: