Trump rival fires staffer who retweeted Nazi imagery
Florida Governor Ron DeSantis has sacked a campaign worker who shared a video with the 'Black Sun' symbol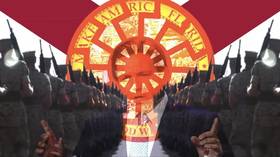 Florida Governor Ron DeSantis, who is running for the Republican presidential nomination, has fired a speechwriter for retweeting a fan video depicting him with a symbol used by neo-Nazis in Ukraine and elsewhere.
Hochman, a former writer for the neoconservative National Review, retweeted the video posted by a DeSantis fan account over the weekend. Both the retweet and the original video have since been deleted.
"Nate Hochman is no longer with the campaign. And we will not be commenting on him further," a campaign official told NBC News on Tuesday evening.
The campaign did not specify whether Hochman was fired specifically over the video, or as part of budget cuts. At least 26 staff were let go on Tuesday evening, joining a dozen more since DeSantis announced his bid in May. However, Axios claimed that Hochman was actually the author of the video, citing "a person familiar with the matter."
The minute-long video was shared by 'Ron DeSantis Fancams', which joined Twitter in March but had accumulated only 800 followers. It criticized former President Donald Trump, the current Republican frontrunner, for things he vowed to do during his time at the White House, and ended on a shot of the "sun wheel" superimposed on the words 'Make America Florida', positioned behind DeSantis' head like a halo.
NBC described it as "a symbol co-opted by the Nazis and promoted in modern times by fascist sympathizers," while Axios called it "an ancient symbol appropriated by the Nazis and still used by some white supremacists."
Independent journalist Glenn Greenwald, meanwhile, noted that "the 'imagery' is the Black Sun, which the Azov Battalion – currently being armed with sophisticated weaponry by the US and NATO – uses constantly."
The Black Sun, known as the 'Sonnenrad' in German, originated in the 1930s when Nazi SS head Heinrich Himmler commissioned it for a mosaic at his Wewelsburg castle. It was chosen by Ukrainian nationalist Andrey Biletsky as one of the symbols in the logo of his neo-Nazi Azov militia in 2014. The unit was eventually integrated into Ukraine's National Guard.
Although Azov leaders have since downplayed ties to neo-Nazis, the unit continues to welcome fighters who openly display nationalist and neo-Nazi views and symbols.
You can share this story on social media: