Chinese president urged military to prepare for war with 'declining' West – media
Xi Jinping reportedly warned in 2020 that a regional conflict could spiral out of control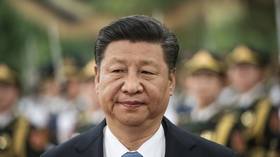 Chinese President Xi Jinping told military leaders at a meeting in 2020 that with his country "rising" and the West "declining," Beijing needed to prepare for a war between both sides, Japan's Kyodo News reported on Monday.
Citing documents from a December 2020 meeting between Xi and the Chinese Communist Party's Central Military Commission, the Japanese outlet claimed that Xi declared "the East is rising and the West is declining."
Amid this shifting power balance, Xi predicted that a localized conflict could break out and widen, although he supposedly ruled out the possibility of a third world war. It is unclear where Xi saw such a conflict originating, but Kyodo News suggested that he viewed Taiwan as a likely flashpoint.
The documents were reportedly compiled after the 2020 meeting and issued to Chinese commanders and party officials last summer. By that point, Russia was fighting what President Vladimir Putin termed "the entire Western military machine" in Ukraine, and tensions between the US and China over Taiwan had reached a boiling point over US President Joe Biden's repeated insistence that he would defend the Chinese-claimed island with military force.
At the time of Xi's meeting, Russia's military operation in Ukraine was still more than a year away, and although then-US president Donald Trump was waging a trade war against Beijing, relations between the two superpowers hadn't yet reached the nadir that they would under the Biden administration.
Regardless, Xi reportedly stressed the need for the Chinese military to "prepare for the outbreak of a war and its chain reactions," and ordered commanders to "be constantly ready for fighting" to defend China's sovereignty and national interest.
Xi's comments took place behind closed doors, but the Chinese leader often makes similar statements in public. He instructed troops to "comprehensively strengthen military training in preparation for war" during a visit to a command center last year, and in April told soldiers to focus their training toward "actual combat" in defense of China's "territorial sovereignty and maritime interests."
While Xi has also referred to the West as "declining" before, he reportedly cautioned during the 2020 meeting that its military advantage "basically remains unchanged."
You can share this story on social media: