Ukrainian tanks fueled by Russian oil – German media
Kiev is now "entirely dependent" on imports, Handelsblatt has reported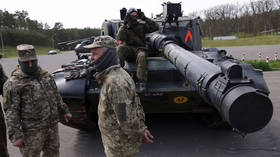 Ukraine uses Russian oil refined in Hungary and Türkiye to power its Western-supplied tanks and diesel generators, the German newspaper Handelsblatt reported on Monday.
Hungarian oil and gas giant MOL has "doubled its sales to Ukraine in the past six months," the business daily noted, citing Ukrainian customs officials. "Since MOL sources a large proportion of oil from Russia, Ukraine's war machine should now be primarily fueled with it," Handelsblatt said.
Though Hungary is a member of the EU, Budapest has secured a special waiver for importing crude oil from Russia via pipelines. Thereby unaffected by the bloc's sanctions on Moscow, MOL can offer Kiev lower prices on refined petroleum products than many EU companies, which are losing market share in Ukraine as a result, according to the German outlet.
Prior to the current hostilities, Ukraine was able to cover about 30% of domestic needs with the Kremenchug refinery in Poltava Region, which processed imports from Azerbaijan. It was reportedly "severely damaged" by Russian missile strikes in April 2022, and has managed to restore only limited capacity by now.
Even though Kiev depends entirely on outside imports, there are no fuel shortages in Ukraine, Handelsblatt noted. Even with the increased consumption by NATO-supplied tanks and armored vehicles, there seems to be plenty of diesel for generators the West sent last winter, to compensate for power disruptions due to Russian strikes on the electricity grid.
"Fuel deliveries are mainly made by rail via Poland," Michal Paszkowski, an analyst at the Institute of Central Europe (IES) in Lublin, told the German newspaper. "The fuel comes from Slovakia and Hungary by pipeline, while from Romania the diesel is first shipped and then transported by rail."
Last December, the US and its G7 allies established a price cap on Russian oil, prohibiting shipping and insurance companies from handling the cargo unless it is sold at or below $60 a barrel. Similar restrictions were introduced in February for Russian petroleum products.
Moscow has responded by outlawing the sale of oil and refined products to anyone who complies with the price cap and by halting the use of US dollars in oil sales. OPEC+ countries have ignored Washington's pleas to compensate by increasing production.
You can share this story on social media: