Biden invites CIA boss to join cabinet
The US president has asked CIA Director William Burns to play a direct role in his government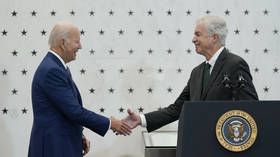 US President Joe Biden has tapped CIA Director William Burns to become a member of his cabinet, underscoring the official's significant influence in the White House and his key role in American foreign policy.
The president announced the decision on Friday, saying Burns has given the United States a "critical strategic advantage" and helped to tackle "our nation's top national security challenges," including dealings with Russia and China.
Burns perviously served as the US ambassador to Russia under President George W. Bush, and later held senior positions in the State Department during the Barack Obama administration, frequently dealing with Russia policy. In 2008, he penned a memo to his superiors warning that NATO membership for Ukraine would stoke "serious concerns about the consequences of stability in the region," and potentially set off a "civil war" in the country. Citing several national security experts, the official said Ukraine was the greatest "destabilizing factor in US-Russian relations," predicting a major response by Moscow.
"Bill has always given me clear, straightforward analysis that prioritizes the safety and security of the American people, reflecting the integral role the CIA plays in our national security decision-making at this critical time," Biden added.
While the move is largely symbolic and does not grant any new authority to Burns, his elevation to the cabinet means he will now attend high-level meetings alongside the secretaries of defense and state, Director of National Intelligence Avril Haines, and other executive department heads.
Burns later acknowledged Biden's decision in a statement, saying the president "recognizes the essential contributions to national security the Central Intelligence Agency makes every day, and reflects his confidence in our work."
A veteran diplomat before he was chosen to lead the CIA, Burns has been dispatched to handle a long list of high-level foreign policy issues, visiting Moscow several times before and after the conflict Ukraine started, as well as meeting with officials in China and Afghanistan.
Though the position of CIA director was previously a cabinet-level role, that changed with the creation of the director of national intelligence role in 2005, in the aftermath of the September 11 terrorist attacks. Starting that year, the DNI has served in the cabinet instead of the CIA chief.
You can share this story on social media: