Israeli airstrikes target Syrian capital – state media
Air defenses responded to missiles in the vicinity of Damascus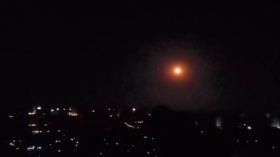 Air defenses around Damascus were activated early on Wednesday, in order to repel a missile attack from Israel, the Syrian news agency SANA has reported.
An "Israeli missile attack" targeted several sites "in the vicinity" of Damascus, SANA said citing Syrian military sources. The attack began about 25 minutes after midnight, with missiles coming in from the direction of the occupied Golan Heights.
Syrian air defenses "intercepted the missiles and shot down most of them," the SANA source said, but the ones that got through "resulted in the injury of two soldiers and some property damage."
According to the Jerusalem Post, this is the first Israeli attack on Syria in two weeks. In early July, IDF jets bombed targets in Homs province and struck an air defense battery near the Golan Heights.
The most recent strike on Damascus was just over a month ago, seriously injuring a Syrian soldier outside the capital.
The Israel Defense Force does not comment on the attacks, in line with its longstanding policy of not discussing operations conducted outside the country. Israeli warplanes have repeatedly bombed targets inside Syria over the past decade, and Prime Minister Benjamin Netanyahu once acknowledged that there have been "hundreds" of strikes.
On the rare occasions the IDF comments on the attacks, they claim to be hitting Iranian and Hezbollah targets in pre-emptive self-defense operations against Tehran's growing influence in Syria. Damascus has repeatedly protested the raids as a violation of Syrian sovereignty and international law, to little effect.
You can share this story on social media: