US deploying F-35s against Iran
Washington has accused Tehran of a series of "destabilizing actions" in recent months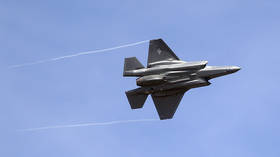 The US military will send additional fighter jets and naval assets to the Middle East in an effort to counter Iran, the Pentagon has said, citing two "alarming" incidents in the Strait of Hormuz earlier this month.
Deputy Pentagon Press Secretary Sabrina Singh announced the deployment during a briefing on Monday, claiming that "destabilizing" activities by the Islamic Republic "threaten the free flow of commerce" in the strategic waterway.
"In response to a number of recent alarming events in the Strait of Hormuz, the Secretary of Defense has ordered the deployment of the destroyer USS Thomas Hudner, F-35 fighters and F-16 fighters to … defend US interests and safeguard freedom of navigation in the region," she told reporters.
Singh was unable to say when the fighter jets and guided-missile destroyer would be sent to the region, or how long the new deployment would last, but noted the assets would help to patrol "vital waterways."
On Saturday, an unnamed Pentagon official told the Associated Press that the upcoming deployment would help to augment the A-10 attack aircraft already sent for patrols earlier this month.
The move comes after US officials accused Tehran of seizing oil tankers and other commercial vessels on several occasions in recent months, including two separate incidents on July 5 which prompted US military intervention. According to the Pentagon, one of those run-ins saw an Iranian Navy vessel open fire on a foreign tanker near Oman's coast, with a US destroyer later warding off the ship.
Iran has repeatedly condemned the US for "warmongering" and escalating tensions with its regular military deployments in the region. Following another encounter with a commercial vessel accused of smuggling earlier this month, Iranian Rear Admiral Ramazan Zirrahi claimed US warplanes tried to help the ship escape, but were unsuccessful.
You can share this story on social media: