Pacific nation responds to criticism of its China deal
The Solomon Islands has accused the US and Australia of meddling in the country's security affairs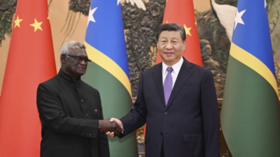 Solomon Islands Prime Minister Manasseh Sogavare has rejected complaints from the US and Australia over his new security ties with China, saying the traditional allies have nothing to fear and should respect his nation's sovereignty.
Sogavare made his comments in a press briefing on Monday, immediately after arriving back in Honiara following his visit to Beijing. The PM wrapped up his trip after meeting with President Xi Jinping and other Chinese leaders, with whom he signed nine agreements and memorandums. US and Australian officials have called for greater transparency concerning one of those deals, a security pact that could allow deployment of Chinese police to help maintain law and order on the islands.
Sogavare, who has rejected suggestions that the Solomons could become a South Pacific beachhead for the Chinese military, said other allies shouldn't be afraid of the country's deepening ties with China. "The Solomon Islands have no enemies, only friends," he told reporters. "Our challenge is to evolve. Friendship extends our hand. We seek honest cooperation and partnerships with all countries."
The US and Australia are being "un-neighborly" by criticizing the island nation's policing plans, contrary to their claims of espousing a "free and open Pacific," Sogavare said. "This is nothing but interference by foreign states into the internal affairs of the Solomon Islands," he added.
The Solomons, a nation of nearly 700,000 people spanning hundreds of islands across 11,000 square miles, has only about 1,500 police officers and no military. Australian police helped quell anti-government riots in 2021 and led a regional security mission to the islands to combat widespread lawlessness from 2003 to 2017. Sogavare, then an opposition lawmaker, criticized the mission for being dominated by Australia and undermining the nation's sovereignty.
Australia also has been the Solomons' biggest provider of foreign aid, giving A$40 million ($27.3 million) in 2022. Sogavare said China would patch any budgetary gaps should Australia or New Zealand withhold or delay their support.
After Sogavare took the helm as prime minister for the fourth time in April 2019, the Solomons withdrew its diplomatic recognition of Taiwan in favor of China. During his Beijing trip, Sogavare signed a joint statement supporting China's positions on Taiwan, Hong Kong, Xinjiang and Tibet, as well as its criticism of Japan's plan to discharge nuclear-contaminated water into the Pacific Ocean and a nuclear submarine venture between the US, Australia and the UK.
The US, which threatened to reassess aid to the Solomons when the island nation switched its allegiance to China from Taiwan, has more recently boosted its diplomatic efforts in the region. Washington opened an embassy in the Solomon Islands earlier this year and pledged $810 million in new aid for Pacific Island nations.
You can share this story on social media: