Israel's Netanyahu fitted with heart monitor
The PM was rushed to the hospital after reportedly fainting at home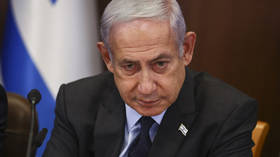 Israeli Prime Minister Benjamin Netanyahu has been fitted with a heart implant for monitoring cardiac arrhythmia and released from the hospital after undergoing a series of tests, his office confirmed on Sunday.
The prime minister was said to be feeling "very good" upon receiving the results of his medical tests, which aimed to rule out any causes for his ill health the previous day. Doctors for Netanyahu insisted his heart was in "excellent condition."
"Our diagnosis, at the end of all the tests performed, including the laboratory tests, is that the reason for the hospitalization was dehydration," the hospital said in a statement on Sunday, adding that the leader's heart was "completely normal."
While "at no point was any heart arrhythmia found," the hospital said it nevertheless opted to implant the device, called a subcutaneous Holter, "for the sake of routine monitoring."
Netanyahu was rushed to Sheba Medical Center in Ramat Gan on Saturday after reportedly fainting at home. His office made no reference to any loss of consciousness, stating only that the prime minister had felt "dizzy."
He released a video from the hospital blaming his lapse in vitality on spending Friday afternoon in the hot sun at the Sea of Galilee "without a hat, without water," and warned his countrymen to stay out of the sun and stay hydrated.
While Netanyahu was rushed to the hospital in October after reportedly experiencing chest pains during Yom Kippur prayers, the 73-year-old is not known to have any chronic health conditions. However, his office has not released its required annual update on his health since 2016, and the Kan public broadcaster reported that a number of Israeli officials have complained at the lack of transparency.
Last year, the Knesset passed a law that made reasons of physical and mental health – either self-confessed or determined by a three-quarters majority of the cabinet – essentially the only way to declare a prime minister unfit for office. Previously, the attorney general could declare the premier to be unfit, a potential risk to Netanyahu given that Israel's longest-serving leader is still under investigation on multiple bribery and corruption charges.
You can share this story on social media: