Progressive US lawmakers to boycott Israeli leader in Congress
A group of Democrats will skip the address by Israeli President Isaac Herzog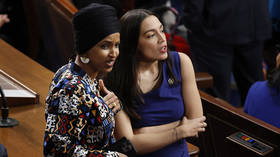 Democratic Representative Cori Bush is the latest member of the US Congressional Progressive Caucus to join the boycott of the upcoming speech by Israeli President Isaac Herzog.
"The Israeli government is responsible for enforcing an apartheid state and rampantly abusing the rights of Palestinians," Bush wrote on Twitter on Friday. She insisted that Congress "should not be giving a platform to the President of a country that shows no respect for human rights."
Herzog will visit the White House on July 18 and address the Congress the next day in honor of Israel's 75th anniversary. The Israeli president was formally invited last year by Congress leadership.
The first member of the Congressional Progressive Caucus (CPC) to voice her displeasure over Herzog's speech was Representative Ilhan Omar. "There is no way in hell I am attending," the congresswoman wrote on Twitter on Wednesday.
Omar's boycott was joined by fellow CPC members Alexandria Ocasio-Cortez and Jamaal Bowman.
CPC members are frequent critics of Israel's policies and have spoken about the rights of Palestinians on the House floor. In 2019, Israel barred Omar and Congresswoman Rashida Tlaib from visiting the country. Tzipi Hotovely, Israel's deputy foreign minister at the time, said entry would be denied to "those who reject our right to exist in the world."
The decision to snub Herzog was criticized by Republicans and some Democrats. Republican House Speaker Kevin McCarthy accused CPC members of anti-Semitism, while Brad Schneider, a Democratic representative from Illinois, said that Omar was "making the wrong choice."
"If there's anyone worth listening to, in a place that she claims to have an interest in advancing human rights, possibilities for peace, President Herzog would be the person," Schneider said.
House Minority Leader Hakeem Jeffries, a Democrat from New York, said he expected "an incredibly robust turnout" on July 19 and that he looked forward to welcoming Herzog "with open arms."
Relations between the two countries have been less warm under US President Joe Biden, as opposed to his predecessor, Donald Trump, a staunch defender of Israel on the world stage. Last month, the State Department said it was "deeply troubled" by Israel's plan to approve more than 4,000 settler housing units in the West Bank.
You can share this story on social media: